Real Housewives of New York City star and occasional cabaret singer Luann D'Agostino, formerly "Countess" Luann de Lesseps, would like for you, me, and all good citizens of the world to know that her marriage is amazing and she is extremely happy and she certainly does not regret giving up her title for a bald adulterer she barely knew.
Luann has always been a fascinating character. This is for many reasons—her unabashed self-absorption, her commitment to sprinkling French words into English sentences, the fact that I saw her once dancing by a pool covered in flash tats and waving a cigarette in the air. But most of all, Luann is riveting because she behaves at all times like a soap opera actress who doesn't quite know her lines (which, now that I think about it, is exactly her job description).
Last season on RHONY—as I personally will never forget as long as I live—Luann was dramatically confronted with a picture of her fiancé Tom D'Agostino making out with a woman at the Regency, of all places, and this season, she promptly married him anyway. Since their New Year's Eve nuptials, Luann's fellow cast members have continually reminded her and the show's large audience that her husband may still be fucking around; at this point, their warnings seem more rooted in a desire to humiliate her on television than anything else, because it seems clear that Luann probably signed up for whatever is going on. This drama has naturally extended into the press, with a Page Six source recently alleging that Luann slapped Tom in the face, "in a fancy Manhattan restaurant," no less. Her response, thus far, has been spectacular.
"I did not slap him in the face. End of story," she told People on Tuesday. "It was like a face hold more than a slap, really. It was a little love pat—it wasn't a slap. A slap is something totally different."
Wednesday night on Watch What Happens Live!, Luann once again defended her marriage against its many enemies, namely Page Six.
G/O Media may get a commission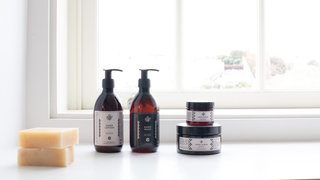 Exfoliate and Hydrate
The Handmade Soap Company
"Oh, boy, do they love Tom and I!" she joked stiffly as Andy Cohen asked her about the article.
Andy: "They said that your marriage to Tom is hanging by a thread—"

Luann: "Oh my god that's so not right!"

Andy: "—and that you slapped him in a restaurant in public."

Luann: "NO, I DIDN'T."

Andy: "Did you slap him?"

Luann: "I did not slap him, we have a very, um, passionate love affair going. And let me tell you, we never go to bed angry, but when we do... when we wake up, we make up."
Luann then went on to emphasize that she and Tom have sex, and she loves that, and again, she did not in fact slap him but "took his face in a very loving way and people took it as a slap."
Another excellent chapter in the book of Luann and Tom.