Last night's episode of The Real Housewives of Beverly Hills featured a scene in which Lisa Vanderpump hosts a white party in Southampton. Everyone was there (except Yolanda, who was getting her implants removed)—Lisa V., Lisa R., Kyle, Eileen, Ken, Giggy, and me.
It was August 8th, 2015. The sun was shining. I was at BELLA New York's annual White Party with Special Celebrity Host Lisa Vanderpump, located at the Capri Hotel in Southampton. The point of my attending was not to appear on TV; the point of my attending was to write an article about the "white party" phenomenon, which I did. That said, now that the episode has aired, it kind of feels like the point of my attending was to appear on TV; I am having trouble imagining anything more exciting than being broadcast to millions of American homes in a blurry half-second frame behind Lisa Rinna's feathered hair.
This happened approximately twice, which was both a disappointment and a relief, because both my friend Henley and I looked worse than we have ever looked in our lives. I was wearing my high school graduation dress that was mysteriously looser in the bust than it was in 2008, Henley was wearing an awful outfit that I had lent her and a full Dynasty-style makeover that she received in one of the party's free booths. We both sort of assumed we wouldn't be filmed, which was mostly accurate.
But here I am subtly watching Lisa Rinna and Lisa Vanderpump discuss Kim Richards' recent shoplifting arrest (Countess LuAnn de Lesseps is a few feet away; moments later, she would get up to dance, waving her cigarette):
G/O Media may get a commission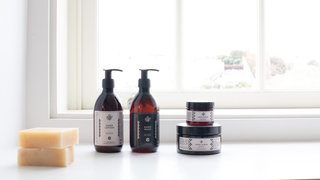 Exfoliate and Hydrate
The Handmade Soap Company
And here I am again, taking pictures of the cast as they arrived:
Here is my friend making a face behind Lisa Rinna; she does not watch The Real Housewives and didn't know who anyone was:
I am not sure that I have ever felt more important than I did today, taking screenshots of myself.
(My colleague Kara Brown, who is more photogenic than me and most other people, experienced the Bravo-lebrity life recently as well, appearing about a million times in a recent episode of Top Chef. She didn't say much about it after the episode aired, I assume because cool things happen to her more often than they happen to me and she didn't really care.)
Anyway, I will never forget this party, chiefly because LuAnn de Lesseps ruffled my hair plus I got to see Aviva Drescher's fake leg up close, but also because it was one of the worst events I've ever attended. Now, having watched the episode, I have become privy to a bit of that Hollywood magic I assume The Real Housewives performs on the reg: making terrible events look fun.
It was the kind of party that would seem amazing if you squinted and closed your ears, which is exactly the effect Bravo pulled off in the 5-ish minutes it was shown. In reality, the food was minimal and bad, the music kind of sounded like the Real Housewives soundtrack was being replayed over and over again very quietly, and many of the guests were heavily made-up and sitting motionless by themselves on couches, which finally makes sense to me after watching the episode:
Looks great! But the crowd was aging, the gift bags included a shoehorn and a box of pasta, and everyone left at 8 p.m.
After filming stopped, John Mahdessian—tiny puce consort of New York Housewife Dorinda Medley—got in an argument with Dorinda and tried to push her into the pool. What you also didn't see was Lisa Rinna frantically flicking her eyes back and forth like a caged animal as she posed for pictures at the step-and-repeat, then screaming "I'm done with you!" at a reporter and storming away.
None of this was really cleared up for me last night. The only thing I am certain of is that I would like to be famous now, and should probably do something different with my hair.
---
Contact the author at ellie@jezebel.com.
Images via screenshots/Bravo; photoshop by Bobby Finger.