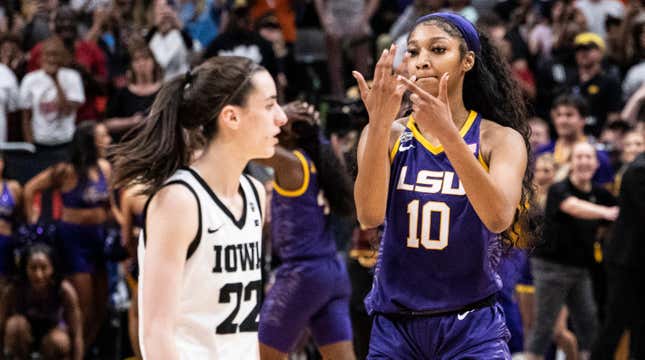 Angel Reese has had a hell of a month since helping LSU take home the franchise's first women's basketball NCAA championship title in April. The star forward is now worth a reported $1.3 million with over 4 million followers across social media platforms. Drake, Future, French Montana, and DJ Khaled all count themselves as fans. Ahead of her 21st birthday, she got a new Benz as part of her endorsement deal with Mercedes-Benz (a portion of the car was paid for through her NIL deal with the brand). And now, Reese is checking off another milestone: Sports Illustrated swimsuit model.
Betsy Wolfe Reveals the 'Most Embarrassing Thing That's Ever Happened' to Her on Stage
On Monday, SI Swim announced that Reese, known by her fans as Bayou Barbie, would be making her "Swim Issue" debut, joining women's basketball greats including Breanna Stewart, DiDi Richards, Nneka Ogwumike, Sue Bird, and Te'a Cooper. In her accompanying interview, Reese revisited the viral moment that took place in the final seconds of this year's championship game against the Iowa Hawkeyes—when Reese threw John Cena's infamous "you can't see me" gesture at Iowa's Caitlin Clark. Later, as the buzzer sounded, crowning LSU the 2023 national champions, Reese stared down Clark while tapping her ring finger. As they are wont to do, white men on the internet used Reese's competitive spirit as an excuse to act like racist trolls, insisting on decorum and playing "fair," while men and white women in the sport often receive a free pass for the same behavior.
"Caitlin and I are cool," the 21-year-old told SI. "It's just being able to force people to accept that women can talk trash. The women's side gets penalized for it or we're considered as not being ladylike and that we're not playing by the rules. We work just as hard as the men. Women can be who we are; women can be competitive."
While Reese previously said she was "frustrated" that the discourse surrounding her gestures "overshadowed" the team's win, LSU's performance during March Madness lent itself to massive gains for NCAA women's basketball overall. Reese was named the Final Four's Most Outstanding Player, and a record 9.9 million people tuned into the women's basketball final.

"Having so many people come back to me and say, 'You guys have changed the game. You guys have been a part of history,' I embraced that," Reese says. "Just being able to be a part of this has just been amazing for me this year, and it's been a blessing."

The basketball star, who is heading into her junior year at LSU, has one more year of college hoops before she becomes eligible for the WNBA. In the meantime, she's enjoying new friendships with Shaquille O'Neal who Reese calls "uncle," LeBron James, and Kevin Durant—a trio she describes as "men who are actually respecting women's basketball." Reese says LSU football coach Brian Kelly also reached out to ask if she could meet with recruits to convince them to commit to the Tigers. She's even become such a recognizable individual on campus that she's now moved her studies online for her own protection, despite loving her fans and their support.

"I'm excited and blessed to be able to have these opportunities to go out and be who I am," she said. "Don't ever let somebody tell you that you have to be in a box and stand your ground."

Now, as she cools down from the intensity of March Madness, Reese is taking it easy…by setting her sights on USA Basketball. Later this month, Reese says she'll be heading to Colorado Springs for U.S. team trials before competing in the FIBA Women's AmeriCup in July—a pre-qualifying tournament for the 2024 Paris Olympic games. Her new goal, she says, is to win a gold medal there. But when you're Angel Reese—women's basketball's rising star—anything is possible. Besides, she doesn't really see it as "work." "When I go to the gym, everything else going on in my life just doesn't matter," she said. "I'm out there having fun, releasing all my feelings, going hard, working hard and just loving the game."