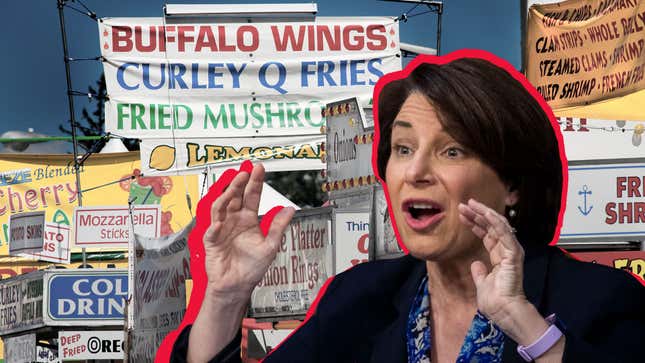 Ahh, state fairs....an incredible opportunity to eat fried Oreos, fried butternut squash ravioli, and maybe even fried cheesecake curds. And our nation's senior senator from the great state of Minnesota, Amy Klobuchar, had the opportunity to try all of these delicacies at the Minnesota State Fair but it seems she's found some, uhm, other snacks in the meantime.
Klobuchar, the Girl Boss bulldozer of a senator, who we all remember from her 2020 presidential bid as the Democratic candidate (do we remember that? What is time?) kicked off Governor's Fire Prevention Day by posing with some hunky, shirtless firefighters. It might not be too hot up in Minnesota, but I'm sweatin'!!!!
At approximately 8:45 a.m. CST—before most have even started their work day—Klobuchar posted a photo alongside three shirtless firefighters and one self-respecting clothed firefighter. Klobuchar kept her hands completely limp by her side while posing with these calendar hotties, clearly determined to avoid at least one scandal. Between berating her staff for forgetting to pack her lunch utensils (which led her to eat her salad with a comb...) and allegedly forcing staffers to shave her legs (which inspired a joke on Veep) to defending Sen. Dianne Feinstein from people saying the 90-year-old should retire (she should), the senator has enough scandals on her hands. Glad she could just kick back and enjoy a day at the fair.
But the fun does not stop there! On Thursday, Klobuchar posed for a photo with a 38" string bean competing in the giant festival competition. "Best of luck and may the best vegetable win!" she captioned her Instagram photo. That's exactly what I think watching octogenarians duke it out for president of our country. (Just kidding, I just wish I was at a state fair with a long green bean!)
Not to be outdone by her fellow Minnesotan government official, Congresswoman Ihlan Omar snapped a pic with the fellas a few hours later. I know that every Hollywood union is on strike right now but since reality shows are still getting green-lit, how about a Bachelorette-esque dating show with firefighters romancing either of these women? Would watch!
Speaking of unions...Klobuchar snuck in a photo op with local celeb, Minnesota AFL-CIO president, Bernie Burnham. Fun!
Imagine the 24 hours Klobuchar is having. Not only did she get to see Trump's mugshot and then take a photo with a big bean and a local celeb, but she got to continue to celebrate with some Grade A American hunks this morning. She might not be my favorite politician but I'm happy for this liberal wine mom and her fun time at the fair.