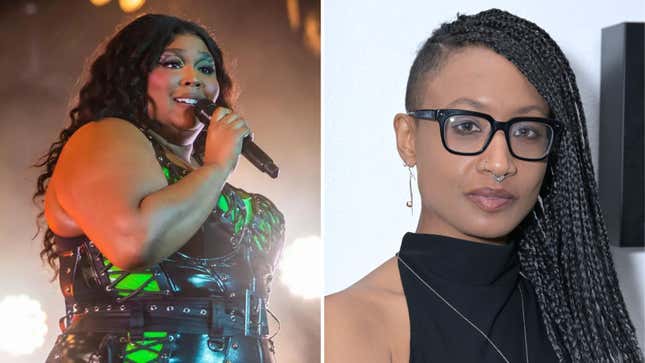 Just hours after the lawsuit filed against Lizzo by three of her former backup dancers made headlines, others who've worked with the singer—including her former creative director and another backup dancer—began corroborating the plaintiffs' claims. Now, Sophia Nahli Allison, an Oscar-nominated filmmaker who exited production of Lizzo's documentary Love, Lizzo in 2019, has joined the chorus.

On Tuesday evening, Allison shared a photograph of herself filming a concert and detailed her own alleged experience with Lizzo via her Instagram stories and Twitter. "In 2019, I traveled a bit with Lizzo to be the director of her documentary. I walked away after about 2 weeks," Allison began. "I was treated with such disrespect by her. I witnessed how arrogant, self-centered, and unkind she is."
"I was not protected and was thrown into a shitty situation with little support. My spirit said to run as fast as you fucking can and I'm so grateful I trusted my gut," the testimony continued. Allison then went on to claim that she was "gaslit" and "deeply hurt" and extended her support to the dancers who filed the suit.
"Reading these reports made me realize how dangerous of a situation it was," she wrote. "This kind of abuse of power happens far too often." Another user, Charlene Sanchez, has since reposted Allison's Instagram story and affirmed her claims, calling the experience on the documentary, "a nightmare."

The dancers' suit, which was filed against Lizzo, her production company, Big Grrrl Big Touring, Inc., and Shirlene Quigley, Lizzo's dance team captain, alleged that the defendants created a hostile work environment through sexual, religious, and racial harassment, along with two separate lewd incidents involving a banana. The filing included claims that Lizzo questioned one dancer's commitment to her position because of weight gain and the pressure put on the dancers to interact with nude performers in Amsterdam's red light district against their will.

As the shocking claims against Lizzo continue to trend on Twitter and dominate the discourse, people have pointed out that even Beyoncé has seemingly taken note. During Tuesday night's performance on her Renaissance tour, Beyoncé appeared to leave Lizzo off the list of musical icons she references in her song, "Break My Soul (The Queens Remix)." Videos recorded of the concert show the singer repeating Erykah Badu's name four times at the time Lizzo would typically be called out. Her name, however, continued to flash on the screen behind Beyoncé.
Representatives for Lizzo didn't immediately respond to Jezebel's request for comment. She has yet to publicly address the suit.
---