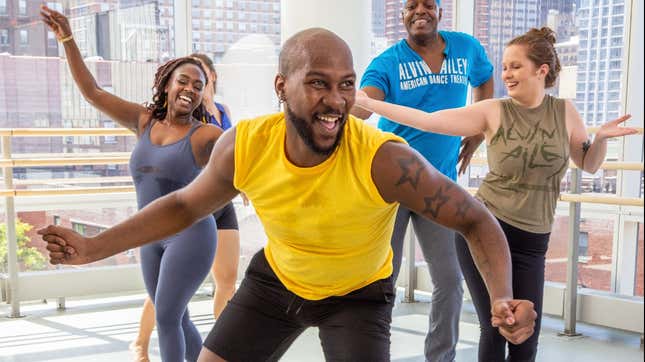 On Saturday, O'Shae Sibley, a 28-year-old professional dancer from New York City, was fatally stabbed in what police are now reportedly investigating as a possible anti-LGBTQ+ hate crime.
Sibley's friend Otis Pena, who witnessed the incident, posted his account of the attack on Facebook Live Sunday morning. Per Pena, Sibley was voguing (a highly stylized form of dance coined by New York's Black queer and trans ballroom community) and dancing to Beyoncé's Renaissance with friends at a Brooklyn gas station when a group of men approached and proceeded to hurl homophobic slurs at them. The men reportedly told Sibley and his friends to stop dancing. Sibley, according to witnesses, confronted the men and a dispute occurred. Then, the verbal altercation became physical.
One man—now suspected to be an unnamed 17-year-old according to CNN—stabbed Sibley in the torso and fled, Pena said on the video following the attack. Pena then recalled attempting to stifle the blood from the wound Sibley sustained before he was taken to Maimonides Medical Center. He was eventually pronounced dead. Sibley's murder was recorded by surveillance cameras and that footage has since been made public.
"They murdered him because he was gay, because he stood up for his friends," Pena tearfully explained. "He was just saying we may be gay, and we're listening to our music, but there's no hate. It's all love–when you stabbed him. You stabbed my brother."
"His name was O'Shae and you all killed him," Pena added. "You all murdered him right in front of me."
While no arrests have been made in the case, an NYPD spokesperson told CNN that the hate crimes unit is involved in the investigation.
"We as a community don't deserve this," Pena said. "We may be gay, but we exist. We're not going to live in fear. We're not going to live hiding."
Sibley's murder is sadly just the latest in a sickening pattern of anti-LGBTQ+ violence and harassment across the U.S. In June, a joint report conducted by the Gay & Lesbian Alliance Against Defamation (GLAAD) and the Anti-Defamation League (ADL) charted 356 attacks on the queer community —from harassment to mass shooting—between June 2022 and April 2023. Five deaths and 31 injuries as a result of anti-LGBTQ+ violence were documented, as were countless threats of intimidation and harassment.
Friends and family of Sibley, who was featured in several music videos and previously performed at New York City's Lincoln Center for the Performing Arts, have been left devastated by his murder.

"It was a senseless crime," Sibley's aunt, Tondra Sibley, told NYT. "O'Shae has always been a peacemaker. All he wanted to do was dance."