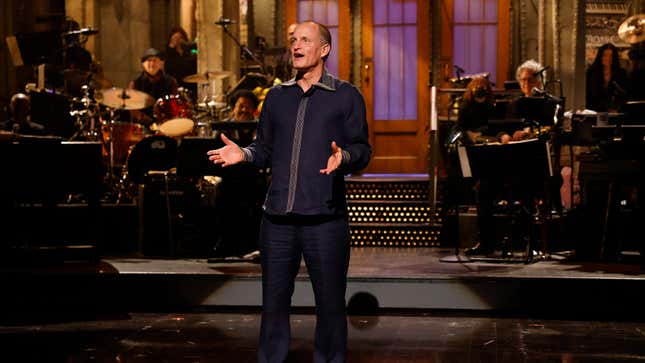 This weekend, Woody Harrelson hosted Saturday Night Live for the fifth time, but you'd be forgiven if you thought it was his first time while watching him live from the 30 Rock stage. His rambling monologue was, in a word, amateurish to the point of coming off like he was making it up as he went along—and it was all building up to an anti-vax joke.
Harrelson described reading a script before covid hit while stoned in Central Park in 2019. The story it set: "The biggest drug cartels in the world get together and buy up all the media and all the politicians and force all the people in the world to stay locked in their homes, and people can only come out if they take the cartel's drugs and keep taking them over and over." Groan. The punchline: "I threw the script away. I mean, who is going to believe that crazy idea? Being forced to do drugs? I do that voluntarily all day long." Sigh.
At least he had a punchline, unlike fellow conspiracist Roseanne Barr, who often shouted right-wing talking points at the crowd attending her Fox Nation stand-up show in lieu of jokes. Harrelson's suggestion that covid is a conspiracy to control people is not "funny 'cause it's true"—to be clear, it isn't either—but the humor was based on the reality of Harrelson's worldview. He wasn't actually joking: After the monologue, a 2022 interview with—bigger sigh—Bill Maher began circulating, in which Harrelson bemoaned—biggest sigh of all—the dismissal of hydroxychloroquine and ivermectin as treatment for covid. "There was only one thing that could work, and that's the vaccine, and ultimately, because of that, billions of dollars were made," he said.
This is spoken like someone who smokes a lot of weed and is consequently paranoid. I'd love to know whether he ran this all by the SNL powers that be in rehearsal or if his unpolished monologue was as spontaneous as it came off. Regardless, great job giving his nonsense a platform, everyone.
---
Since every other story today is about the Screen Actors Guild Awards—it's easy to forget how relevant they are, and yet they return every year to remind us—that's the focus of today's roundup: