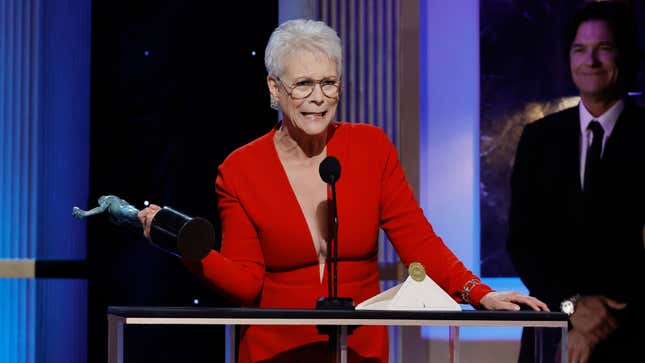 Jamie Lee Curtis won Best Supporting Actress in a Motion Picture at the Screen Actors Guild awards Sunday night for her role in Everything Everywhere All At Once, and she took the opportunity in her speech to acknowledge being a "Nepo Baby."
"I'm wearing the wedding ring that my father gave my mother. They hated each other, by the way," Curtis said to laughs from the audience, "but my sister Kelly and I were born from love. And my father was from Hungary, and my mother was from Denmark, and they had nothing, and they became these monstrous stars in this industry they loved so much."
"My parents were actors," she continued. "And I married an actor. I love actors. I love acting. I love being a part of the crew, I love being a part of the cast...it's such a beautiful job, and I know so many people in our industry who are actors who don't get to do this job. I know you look at me and think, well, Nepo Baby, that's why she's there—and I totally get it. But the truth of the matter is I'm 64 years old, and this is just amazing."
Curtis, the daughter of famous actors Tony Curtis (Some Like It Hot) and Janet Leigh (Psycho), got wild applause from the audience. It should also be noted that she kissed her costar, Michelle Yeoh, right on the lips when she won the award, which may further endear anyone to Jamie Lee Curtis who might have been inclined to write her off for being a nepo baby.
G/O Media may get a commission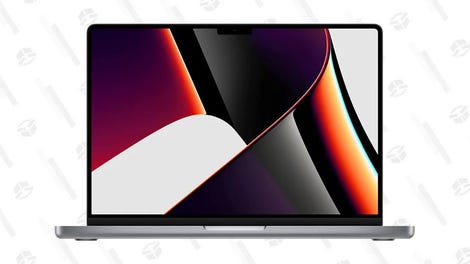 Save $300
2021 14" 1TB MacBook Pro
Nepo baby or not, Curtis deserved this award: Her performance in Everything Everywhere All at Once as a miserable tax collector stripped her of all possible vanity, and she proved her acting chops, as if she hadn't before. Congratulations to this woman on being recognized for her work at age 64 in a society that prefers not to perceive women of that age at all.