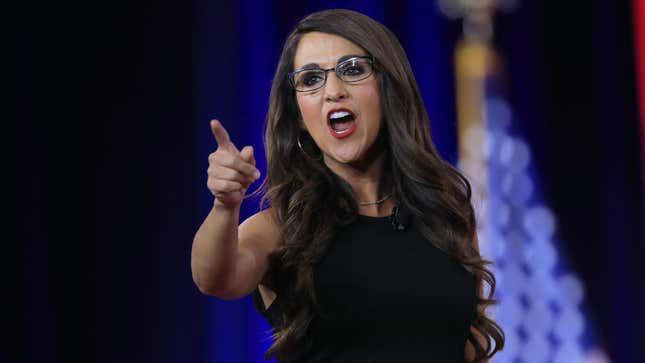 Earlier this month, Rep. Lauren Boebert (R-Colo.) revealed that she will soon be a 36-year-old grandma since her 17-year-old son recently impregnated his girlfriend. This week, the grandma-to-be went to bat for her son and her parenting, after she was accused of being a hypocritical Christian since her son and his girlfriend aren't married.

Republicans Pull Out All the Stupid Stops While Debating Abortion
"Obviously, I'm a Christian, and there are standards that we like to uphold, but none of us do it perfectly," Boebert told Dave Rubin on his talk show The Rubin Report on Thursday. "We can nitpick what the Bible says is right and wrong, but I think just having that heart posture of wanting to serve God, it's so important." (What, exactly, "heart posture" entails, I have yet to figure out, but it sounds like fairly run-of-the-mill evangelical bullshit.)
She continued, "One of the biggest things that I look to is, 'Him who knows to do right and doesn't, it's sin.' And I mean, there [are] things all throughout the week that I know is right to do and sometimes, I don't do them."
And look, if teenagers become parents, they deserve resources and support. And all teens, regardless of whether or not they're facing that decision, should also have access to accurate sexual health education, contraception, and abortion. But it's certainly eyebrow-raising that the Bible-thumping congresswoman who endlessly invokes Christian teachings to rail against abortion apparently has no qualms with her teenage child's premarital sexual life. The right is constantly preaching about the necessity of abstinence before marriage and stigmatizing unintended pregnancy as sinful and shameful, all while demonizing abortion, which many pregnant teens choose. Excusing premarital sex but not abortion, both of which are ostensibly against her "family values," is as inconsistent as it gets.
It's clear Boebert and other conservative politicians' opposition to abortion is entirely rooted in selective outrage, and letting that selective outrage dictate whether people have access to basic health care or are forced into childbirth by the government.

Boebert first announced her teenage son's pregnancy at the Conservative Political Action Conference a few weeks ago. She recalled the exchange in which she learned about his situation: "When I approached him and told him, 'Tyler, I'm going to be a 36-year-old grandmother,' he said, 'Well, didn't you make granny a 36-year-old granny?' I said, 'Yes, I did.' He said, 'Well then it's hereditary.' Nice try buddy."
Inevitably weaponizing the subject to push anti-abortion propaganda, Boebert added, "One of our biggest fears was not, 'What are you going to do? What are people going to say?' Our biggest fear is, 'Are they going to choose life?' And they did. We are so proud of them for making that sacrifice...to say there's something greater here."
Boebert then used the anecdote to push the narrative that rural areas are more "pro-life" than people who live in cities. "If you look at teen pregnancy rates throughout the nation, well, they're the same in rural and urban areas," she said. "However, abortion rates are higher in urban areas and teen mom rates are higher in rural conservative areas, because we understand the preciousness of the life that is about to be born."
Of course, as Jezebel's Susan Rinkunas has noted, "Maybe—just maybe—rural teens are pressured by their conservative parents to not have abortions? And even if they wanted to end the pregnancy, abortion is harder to access in rural areas?"
If only Boebert would give the same degree of grace (or, as she put it, not "nitpicking") to people trying to access abortion that she's giving her son and his girlfriend.