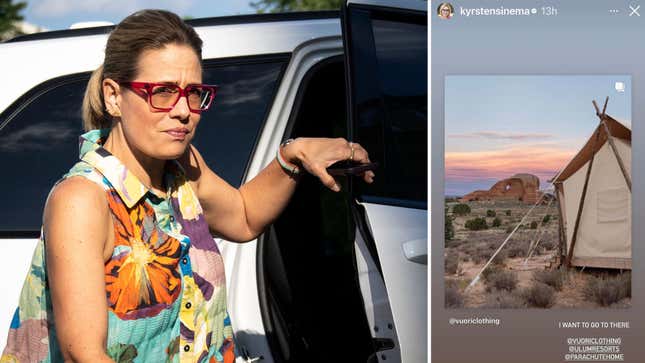 Kyrsten Sinema isn't a Democrat. She says she isn't a Republican. She seems to be a secret third thing: a gal trying to snag a free two-night glamping experience in Moab, Utah. Late Wednesday evening, the independent Senator from Arizona shared a giveaway post on her non-government Instagram account, seemingly in hopes of winning a stay at the ULUM luxury glamping resort in Moab, free clothes from Vuori, and free bedding from the brand Parachute. "I want to go to there," her story reshare reads, quoting fellow Gen-X glasses wearer and perpetual bummer Liz Lemon.
The Filibuster is Standing in the Way of Abortion Access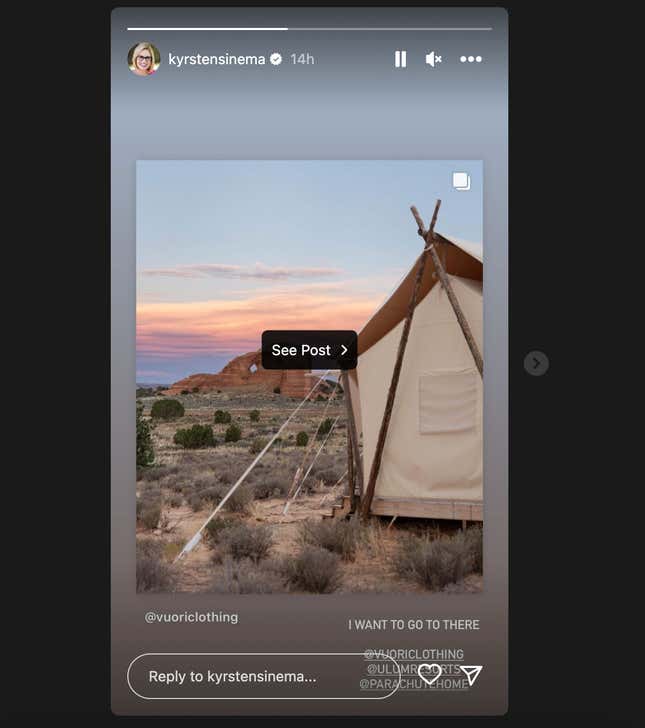 Look, I'll be the first to say it. I am eager for Sinema to find some more neutral, less insane clothing. Have you seen what she wore to meet Arizona veterans this week? I can best describe it as a crocheted black light poster hung up at a roller rink. Vuori, the clothing brand she's entered a giveaway for, is much, much more muted than her go-to sartorial assaults. I don't think a $1,000 gift card to the brand will change what she wears on the Senate floor because of the Chamber's dress code (Vuori is an athleisure brand), but it might be a welcomed make-over elsewhere. Think of the veterans!
But that—the $1,000 Vuori gift card, along with the $1,400 ULUM stay, $1,620 in Parachute swag, and $195 of Aesop products, as Vuori detailed in its original giveaway post—brings me to my main concern. Should there be a chance Sinema wins this random giveaway, as a sitting Senator, is she allowed to accept those gifts? The Senate's Select Committee on Ethics makes clear that Senators can't accept gifts over $50, can't accept any gifts that come in gift card form, and are only allowed to stay in homes that are "gifts of personal hospitality." That excludes "a residence that the person offering the hospitality rents or leases out to others." Kyrsten, if you want to go glamping, looks like you'll have to fork over $215 for one of those glass cabin fuck-huts like the rest of us.
Granted, this isn't really that embarrassing of a peek into a politician's social media activity, especially compared to what we saw Tennessee's Lieutenant Governor partaking in last week. (Lt. Gov. Randy McNally has been enthusiastically commenting on a young, very-unclothed gay man's Instagram account all whilst passing discriminatory and dangerous anti-LGBT laws in his state.) But Sinema's online presence, which we learned more about through Slate writer Christina Cauterucci's incredible deep dive into the supposed Facebook Marketplace account of the Senator, just adds layers on top of the puzzling picture she puts forth. And the last thing this woman needs is more layers.