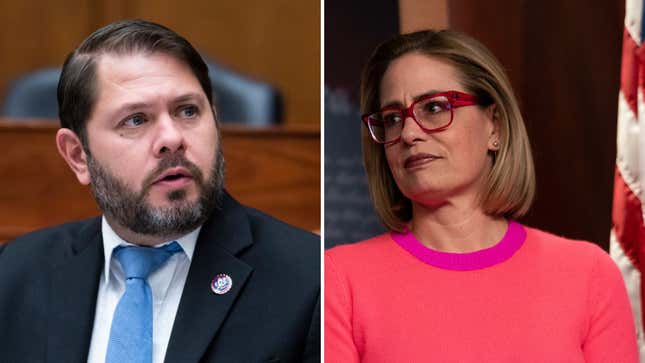 Sen. Kyrsten Sinema (I-AZ) officially can't keep her Senate seat just by switching parties. On Monday, Rep. Ruben Gallego (D-AZ) announced his candidacy for the senate race. He was first elected to Congress in 2014 and before that, served in the statehouse, focusing on veterans' issues.
The Filibuster is Standing in the Way of Abortion Access
As with most of these announcements, there's a lil' video compiling Gallego's life story. He's the son of a single mom who is an immigrant, a Harvard graduate, and a U.S. Marine vet. In fact, Gallego announced the campaign to fellow vets at the American Legion Post 124 in Guadalupe, Ariz., which is outside of Phoenix, in the video.
Gallego said the enduring "American dream" is what pushed him forward in life. The video's vibes (for lack of a better word) are pure optimism in the face of adversity; it wants you to feel like nothing is impossible under the big beautiful Arizona sky. But the video also takes some not-so-subtle hits at Sinema. "We could argue different ways about how to do it, but at the core, if you're more likely to be meeting with the powerful than the powerless, you're doing this job incorrectly," Gallego's voiceover said, a nod to Sinema's corporate donors. "I'm sorry that politicians have let you down, but I'm going to change that."
Obviously, you don't mention your opponent in your Meet The Candidate Video, but c'mon now. This entire campaign is going to be contrasting Gallego with Sinema! The woman sucks! As someone who has covered the Arizona legislature in the mid 2010s, it's been absolutely wild to watch Sinema shift from the seemingly leftist, bisexual statehouse member who an editor told me would be a ~little kooky~ to a full corporate stooge.
Her switch to Independent—but still caucusing with Senate Democrats—is a calculated risk to avoid a possibly difficult primary. You don't have to answer to Democratic base if you're not a Democrat, right? But Sinema will still have to run in the general election, and thank goodness she's finally gotten a reasonable challenger.