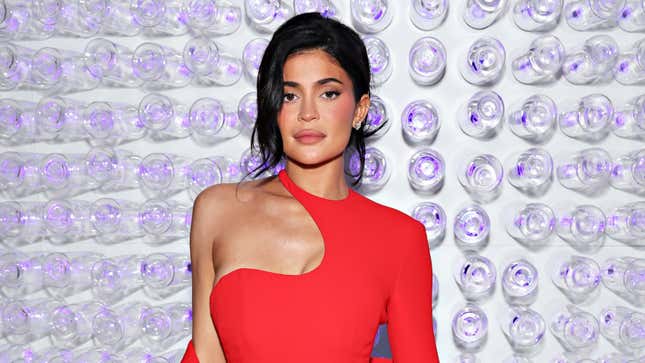 For years, anyone with eyeballs has been waiting for the Kardashian-Jenners to own up to all the plastic surgery they've very clearly undergone. And for the most part, we—the viewers—have been playing a losing game. But that changed this week when Kylie Jenner admitted roughly six years after the fact that she had gotten a boob job just before she got pregnant with daughter Stormi Webster, who was born in February 2018.
Though Kylie, 25, is not the first of the reality sisters to fess up to body modifications after more than a decade of speculation (Khloé has admitted to a nose job, and Kim so bravely confessed she got Botox in her neck), she is the first to do so in depth and the first to express remorse, which she did on Thursday's season finale of Hulu's The Kardashians.
"I got my breasts done before Stormi…not thinking I would have a child when I was 20," Kylie said in a confessional scene. "Like, they were still healing. I had beautiful breasts. Natural tits. Just gorgeous. Perfect size, perfect everything. And I just wish, obviously, I never got them done to begin with."
"I would recommend anyone who is thinking about it to wait until after children," she continued. "I would be heartbroken if [Stormi] wanted to get her body done at 19. … She's the most beautiful thing ever. I want to be the best mom and best example for her. I wish I could be her and do it all differently because I wouldn't touch anything."

Though confessing to a breast augmentation—and lip fillers, which she also copped to in the interview—feels like small potatoes for a family of women that have become poster children for both the Brazilian butt lift and Ozempic trends, this is a bombshell admission within the Kardashian universe. At this point, two generations of girls have grown up watching the sisters morph into unrecognizable avatars of impossible beauty standards, and now—after years and years and years of denial—Kylie has not only admitted she had work done, but expressed that she regrets it. It's the most likely outcome for what seemed like a never-ending saga, but that doesn't make it any less depressing.
It's far too late, however, for Kylie to undo the harm she (and the rest of her family) have done by lying about cosmetic procedures for years and convincing the public (however ineffectively) that her shifting appearance was just a product of puberty and graceful aging. In 2016, as Page Six pointed out, Jenner stated on Twitter that the reason her boobs looked larger was simply because it was "that time of the month," insisting that they would "deflate" at some point in the future. She's also credited the Victoria's Secret Bombshell push-up bra for her ballooning bosom, People notes: "I just use the Bombshell by Victoria's Secret. It's life-changing. I've gotten all my sisters on it and all my friends."
While the KarJenners should be held accountable for the horrific body insecurities they've passed onto their viewers, I can't help but feel sadness for Kylie. Her entire empire is built on deceit: the enduring lie that if you work hard enough, get rich enough, and apply the right products (hers, of course), you, too, can be beautiful in a Kylie Jenner sort of way. But it's tough to hear the reality star admit that she wishes she never altered her body—even after launching multiple businesses on the very premise of that altered body. Not that this billionaire needs my sympathy, but still: Watching in real time a young woman process the grief and trauma of reconstructing her body to the point of distortion is just sad. What Kylie has done to herself is, after all, a symptom of the pervasive, pernicious idea that a woman will never be enough just the way she is. And now, if she can't be happy with what she did in pursuit of some ever-changing beauty standard—however much she and her family are involved in those changes—then what was it all for?

If anything, I'm relieved to hear that Kylie hopes to instill something different in her own daughter. Hopefully her sisters will follow suit before it's too late for their own children.