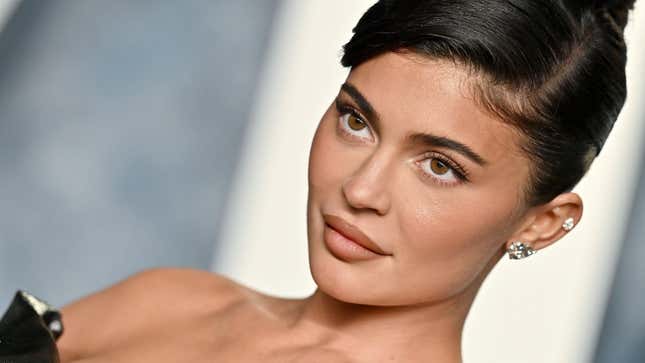 For any of you who may have suspected otherwise: Kylie Jenner was not an insecure person before getting all those fillers in her face, OK?!??
Britney Spears Escapes Family Drama By Going to First Bar
The 25-year-old reality star and influencer, who in 2020 became the youngest billionaire ever after building a cosmetics company based on the lie that she achieved those sudden full lips via makeup, told HommeGirl in a new interview that she's annoyed at certain assumptions about her inner life since coming clean about the lip injections.
"I think a big misconception about me is that I've had so much surgery on my face and that I was some insecure person, and I really wasn't!" she said. "Yeah, I love full lips and wanted full lips, but growing up I was always the most confident person in the room. I was the girl performing for everyone. I had my one lip insecurity thing, so I got lip filler, and it was the best thing I've ever done. I don't regret it. But I always thought I was cute."
Jenner said that being a mother (to Stormi, 5, and Aire, 1) has made her appreciate her own face even more. "It's made me love myself more," she said. "I see my features in my daughter and my son now, but you know, my daughter looks like me. I get to see my beauty in her, and it's made me love myself more for sure. Beauty is always changing for me."
Kylie's face and body are always changing, too, incidentally—which is fine! Plastic surgery and fillers are fine, everyone is allowed to make themselves look however they want. But this celebrity, in particular, is responsible for millions of women and girls trying to alter themselves to look like her and buying whatever products she suggests will help them do so, despite her lying for years about what she's actually had done and how much it cost. She's very clearly had butt and breast augmentations, for instance, but once said of all her new features:
Truth is, as I've gotten older, I've gained 15 pounds and my body has changed; I've definitely filled out. Working with some of the best makeup artists has taught me a lot of amazing tricks to making me feel more confident and I can't wait to share them with you guys. I swear there are things you can do to work on problem areas without having to think about plastic surgery.
Of course, interviewers never push Jenner to consider the impact her truth-twisting has had on an entire generation of teen girls, who really could've benefitted from some more honesty.
One particular quote in the HommeGirl interview really takes the cake: Asked what beauty advice she'd give her daughter, Stormi, Kylie says, "That she's perfect the way that she is. Be confident, always be confident in yourself."
At that moment, irony was pronounced dead.