Kim Kardashian has been silent in the wake of her robbery last week but the media hasn't been able to shut their yaps, spinning yarns about an event we all know little to nothing about. MediaTakeOut, a dirty lil' gossip site, is one of the worst perpetrators, going so far as to posit that she lied about the whole thing. You know what? I bet she didn't! And that's why she's suing their ass in federal court.
TMZ reports that Kim filed a suit against the website today because of three posts that claimed she staged the robbery. Sourcing various conspiracy theorists on social media as evidence, one post alleged that the robbery was a setup. Another stoked the fire of the rumor that Kim actually let the robbers in herself. The third discussed the insurance claim, saying that "If she faked the robbery ... she just committed a FEDERAL CRIME."
Kim's legal team apparently tried to get the site to remove the posts; they didn't and now they will go to court. Believe what you want about the robbery and Kim's ulterior motives, there is simply no reason she would lie about something like this! What on earth does she have to gain? Fame, money and notoriety are already hers for the taking and inventing a nightmarish tale about being held up at gunpoint by strangers, bound at the feet and wrists and put in a bathtub while they pillaged her shit doesn't seem like something Kim would pull. Sorry 'bout it.
Now, a week and change after the event, the posts are nowhere to be found on the site and are directing to this page which says that the story has been removed.
[TMZ]
---
The mother of Cathriona White, Jim Carrey's late ex-girlfriend, has filed a wrongful death suit against the actor, in a similar vein to the suit filed by White's husband Mark Burton, alleging that Carrey was to blame for her daughter's death.
G/O Media may get a commission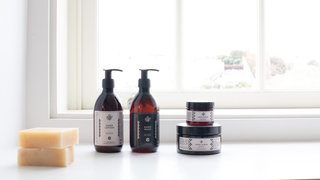 Exfoliate and Hydrate
The Handmade Soap Company
In the suit, Brigid Sweetman alleges that Carrey gave her daughter "three STDs without warning her (Herpes I and II and Clamidia), lying to her about it, 'dumping' her out of concern for saving his own carefully crafted public image, calling her a 'whore' and shaming her, and then using his high-priced Hollywood lawyers and 'fixers' to intimidate and threaten her in an effort to silence her."
However, Carrey's lawyer tells another tale. According to TMZ, Carrey's late former girlfriend and her mother didn't really have a relationship and were estranged for years. Carrey's lawyer, Marty Singer, claims that this suit is just another attempt to "capitalize" on White's death.
Can everyone just...not? Thanks.
---