Kim Kardashian has a new app, and the most important thing on it isn't the videos of her cooing over her daughter or her detailing her thoughts about Caitlyn Jenner's transition, but her long-teased, brand new makeup tutorials. While Kim is presenting the tutorials as a new offering, she's actually done makeup tutorials before. But that was before—before she was Kim Kardashian West, before she "broke the internet," before she became the world-dominating force she is now.
Before Kim's new website launched this week (one that she's been working on for quite some time), she and all her sisters had blogs hosted by Celebuzz.com. It's around this era, in 2009, that tutorials like this one, which I have watched easily a dozen times, were made.
"Alright guys, I know you've been waiting for this makeup blog for a really long time," Kim says at the beginning of this four-part makeup tutorial, made in her kitchen, which is where she says she likes to do her makeup. She's with Stephen Moleski, who's identified as a "Celebrity Makeup Artist." Kim promises they'll do a few tutorials, "with all different looks," but that they're starting with the smokey eye look, which she's dubbed "The Kimmel," because, yes, it's a look she wore on Jimmy Kimmel Live!
Slightly porny music plays in the background. Kim chatters away the whole time, as Moleski corrects the things she does when he's not around (she's not supposed to put foundation directly onto the foundation brush, for example). Moleski, who has spoken extensively about his connection to the Kardashian-Jenner family, is the guru. Kim is the muse.
In what we presume is video released slightly later, Kim utilizes a different makeup artist, Mario Dedivanovic. They're recreating a more "wearable" version of her Vegas magazine cover look, which she describes as "probably my favorite magazine shoot that I've ever done."
Kim's hair is in a high pony here, and without her pulled back waves, she looks younger and more relaxed.
G/O Media may get a commission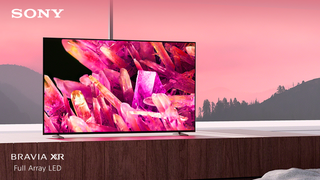 $400 off
Sony 55 Inch 4K Ultra HD TV X90K Series
"My favorite part of the makeup is the under eye concealer," she says. "Nobody does under eye concealer like Mario. He's like the concealer god."
Perhaps it's this commitment to under eye concealer that cemented Kim and Mario's relationship, as Stephen is nowhere to be seen in the tutorials on Kim's new app; as was the case with her recent master class where you could go and learn how to do makeup for a pretty penny, it's all about her and Mario now.
Well, it's really all about Mario now; Kim has become even more of a silent muse than she was before.
There are currently two videos available on Kim Kardashian's app—I'm sorry, Kim Kardashian West's app, as she corrects Mario at the beginning of the one devoted to contouring.
Mario's still loving the beauty blender, and besides the lighting and the improved quality of the video, not much has changed with his technique. Sure, there's less of a focus on gloss and shimmer and things have become more monochromatic, but that's true in fashion at large, not just in the life of a someone who spends a lot of time around Kanye West.
The same can be said of their video on "strobing." Mario is still highlighting Kim's lips, and they're even making variations of the same comments. In the original Vegas mag tutorial, he says he uses this technique to make Kim's lips look fuller—"not that she needs it." In the new video, Kim responds sarcastically of Mario's plan to highlight her "pregnancy lips," "Because that's exactly what I need while I'm pregnant."
He's also still not afraid to correct her, when she does briefly speak. "So strobing is the new contour," Kim says. "Well, not really," Mario counters to her "x is the new black" chiding. It's "highlighting without contour."
While Kim used to flirt obviously with the camera and play up her Valley Girl persona, the real difference in her new tutorials is her, not the techniques. She's become more serious, drier, unsmiling, her likely fillered and Botoxed face smooth as can be. She sits silently, not giving feedback as Mario paints her. Bask in Kim's face; it is now enough to just have her without commentary, she seems to be saying without really saying it. She doesn't need to tell you what she's about. You already know. You paid to be here.
---
Contact the author at dries@jezebel.com.
Images via the Kim Kardashian West App