As expected, Sunday night's episode of Keeping Up with the Kardashians was all about Kylie Jenner's Kontroversies, including her fake lips—"It's obvious [she's had them done]," her sister Kim said—and her real relationship with Tyga.
As seen in this episode, the Kardashian-Jenners are the type of people who hug their dermatologist like he's a close personal friend, which, given that he holds their livelihood in his well-manicured hands, he is. In fact, the entire episode (besides a boring sub-plot where Kourtney and Scott argued about interior decorating) was devoted to the sisters, their various obsessions with their bodies and faces, and how a lot of their issues are because of all the scrutiny placed upon them. Not explicitly mentioned was how they've created their empire by literally shoving said bodies into the limelight as "looks" worth striving for.
"When you are photographed all the time, it's natural to have insecurities and wanna change stuff about yourself," Khloe said. The rest of the episode was hell-bent on representing the family like their plan of attack is to be open and honest about all things, when in fact their openness and honesty is always carefully curated.
The sisters all had different takes on plastic surgery and Kylie's look in particular. "The lips changed her life," Khloe said, acknowledging how the attention, even when it's negative, improves and builds upon their family brand. At the same time, her other sisters did quick work to make it clear that it's not all easy being a Kardashian. "Kylie has always been so insecure about her lips, since she was a little girl," said Kim (perhaps because, as Kylie admitted later, she's been photographed on a national scale since the that young age).
Kendall took a more hippy-dippy approach, saying she didn't think her younger sister needed plastic surgery of any kind. "No one needs anything, everybody's beautiful," said the incredibly successful model, whose career depends on doing the least amount of obvious work to herself but who could immediately lose her status as the go-to girl of the moment if anything about her slips.
G/O Media may get a commission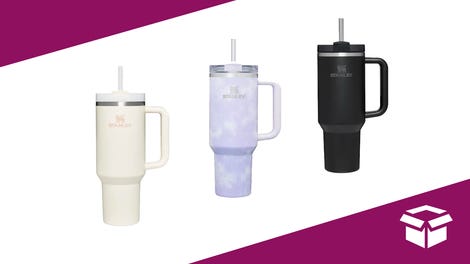 Up to 45% off
Stanley Cup Sale
"You guys don't need to worry about this so much," Kendall said, to which Kim responded, "I worry about it literally all the time."
She has to: as Khloe said, "Kim, you're the body person. You're just the guru." So though Khloe was seen getting her ass lasered, it was Kim's job to talk to Kylie about how to address her lip injections during interviews, her guru status cemented by another mention of her issues with psoriasis during a desert photoshoot. She ultimately recommended that Kylie be upfront with what she'd gotten done and coached Kylie on how to respond to questions about it during a Teen Vogue photoshoot, probably partially because she was particularly concerned that she looked "like a liar" for having been quoted in the past as saying Kylie just lined her lips and hadn't had fillers.
Ultimately, Teen Vogue didn't ask Kylie outright about her lips, and so the family got to save her reveal for their own clear benefit, airing this episode devoted to their bodies, themselves. They also got to undercut any drama surrounding Kylie's relationship with Tyga; her older sisters oh-so-casually looked at paparazzi photos of the two of them out, and later, at a party for Kylie's new line of hair extensions, Tyga showed up, telling Kylie, "Congratulations, this is really nice. I'm really like, proud of you."
Where is the truth with this family? It lies somewhere in-between the magazine covers Scott lambasted during that have been alleging for months that he and Kendall are sleeping together ("I don't know how it's legal to print this shit"), and this carefully constructed episode devoted to making it clear that the weight of world and its expectations lies heavy on the sisters when it comes to matters of these flesh tombs we're all trapped in.
---
Contact the author at dries@jezebel.com.