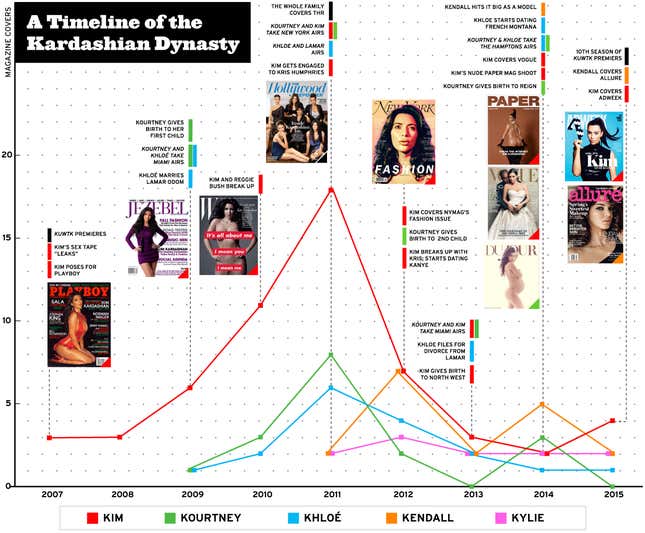 On Sunday, the 10th season of Keeping Up with the Kardashians premieres on E!. Love them or hate them, this family has become arguably the biggest success reality television hath wrought. Their show turned them from a mildly famous wealthy California family to global superstars. And what's so beautiful about the whole thing is that we've got the glossy paper trail to prove how it all happened.
Their story is not one of luck, but one of careful plotting and planning, most of which can be credited to family matriarch Kris Jenner. While Rob, stepfather Bruce, and stepbrother Brody have gotten some increased fame from the show, it's truly the sisters that Kris has had the biggest success with, parlaying their good looks, dramatic relationships and pregnancies into beauty products, clothing lines and endless party sponsorships.
In the eight years KUWTK and its spinoffs have been on the air, the Kardashian sisters have been on more than 120 covers—some of them together, but most of them individually. While the ratings of their shows have ebbed and flowed over the years, racking in between roughly 2 and 5 million viewers an episode, their status as people who are controversially dominant in the cultural conversation and apparently not going anywhere has only gotten firmer.
The Kardashians have bought their success, to some degree, and it can plainly seen each week through their slowly increasing presence on the covers of tabloids. But one of the best ways to visualize their rise is through their presence on the covers of the magazines they didn't somehow pay for. From Kim's debut on the cover of Complex in 2007, which she quickly followed up with an appearance on Playboy that was documented for KUWTK, the quality of the magazines the family has been featured on has dramatically improved. Kim has gone from being a sexpot on men's magazines to nabbing the holy grail of all magazine covers, Vogue. And, now on her way to becoming a supermodel, Kendall has gone from being featured on the cover of Teen Prom to getting her own Allure cover.
G/O Media may get a commission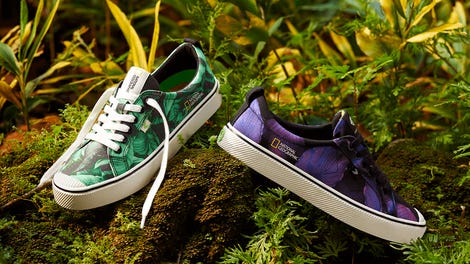 New New New
Cariuma + National Geographic
These are the sisters' respective non-tabloid cover counts to date, as fully accounted for as possible:

Of all the sisters, Kim by and large has been on most covers, which is largely a credit to the years in which KUWTK was airing but her sisters had not quite yet gained her level of fame. From 2007 to 2010, she was basically the only family member with her own notable cover presence. In the first year, those covers were for men's magazines, and it was sexy stuff: Playboy, Complex, King.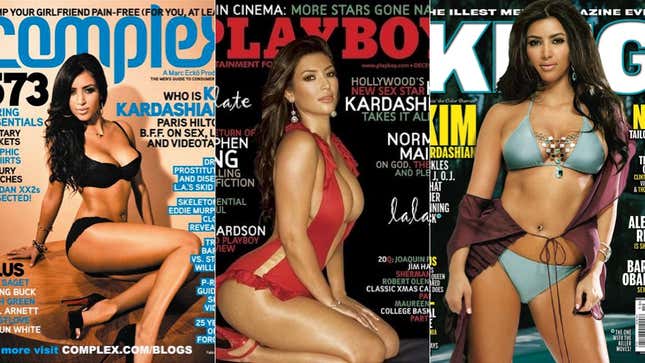 But by 2009, things were starting to change. Kourtney had her first child, Mason, which was the start of years of her appearing on magazines like Fit Pregnancy. The KUWTK spinoff Kourtney and Khloé Take Miami started airing, and Khloe married NBA player Lamar Odom. Meanwhile, Kim had moved away from men's magazines and was nabbing spots on the covers of lower-brow women's/entertainment magazines (including Atlanta's very own Jezebel).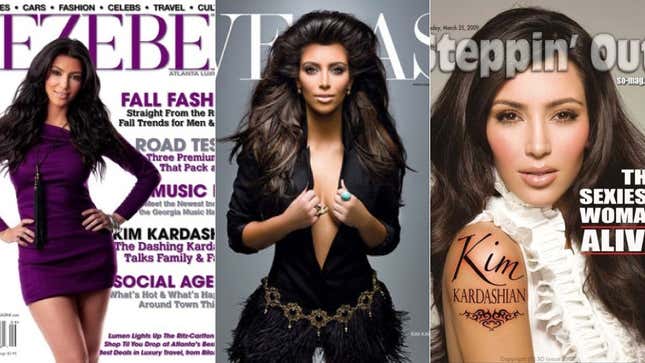 In 2010, Kim and her football playing boyfriend Reggie Bush, who had been featured on the show, broke up. That year, the three eldest sisters appeared together on a couple more low-budget magazines: Vegas Magazine and Las Angeles Confidential. And Kim had moved from sexy men's magazine model to women's magazine cover star, nabbing covers on multiple international editions of Cosmopolitan and Shape. Her big coup, however, was getting on "The Art issue" of W magazine, which—like her Playboy cover before it—was dramatically televised on KUWTK, when she found out she would be nude, covered in only body paint, on the inside of the issue.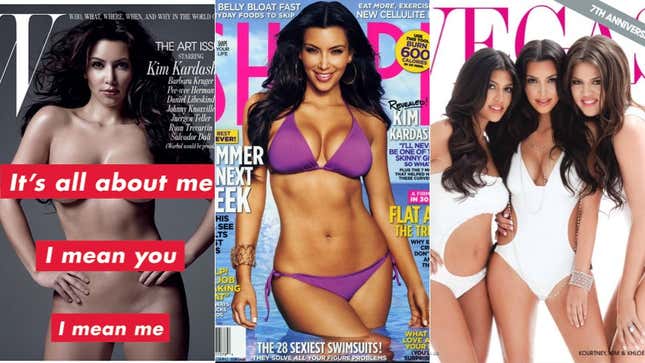 In 2011, the whole family–well, Kim, Kourtney, Khloe, Kris, Kendall and Kylie–were featured together on the cover of The Hollywood Reporter; the headline read "Inside Kardashian Inc." (Later that year, they'd do the same on Redbook, though Kendall and Kylie would be relegated to the fold out.) This was the year Kim, Khloe and Kourtney's covers peaked, numbers-wise. Kim appeared on Harper's Baazar, Glamour and Cosmopolitan; Kourtney celebrated her status as a mom, and all three sisters got separate covers of the same issue of Lucky, a nod to their fashion empire and a foreshadowing to Kim's inevitable acceptance by the haute couture fashion world at large.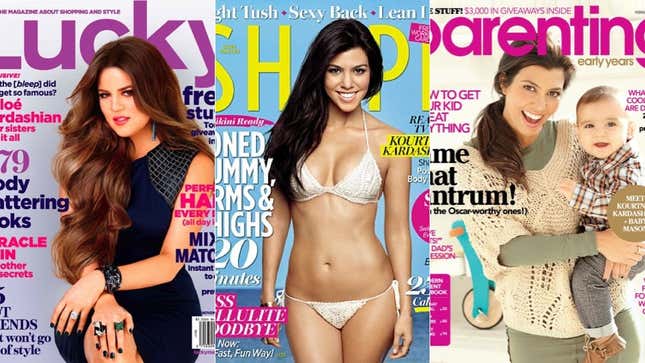 Entertainment and life-wise, the spin-off Kourtney and Kim Take New York began to air, Khloe's spinoff with her husband Lamar Khloe and Lamar launched, and most notably, Kim got engaged to Kris Humphries. Their wedding was televised in a special episode on E!, to 4.4 million viewers.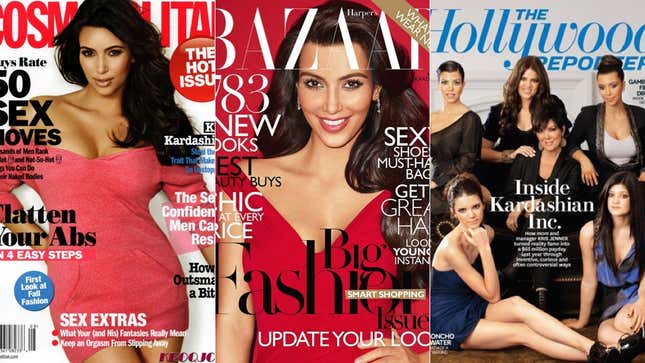 In 2012, the idea that Kim was going to be taken seriously in the fashion world was floated forward in a cover story for New York magazine's fashion issue; the cover line read, "Does Kim Kardashian Belong on the Cover of a Fashion Magazine?" That same year, Kourtney had her second child, Penelope, though any excitement in her life was hugely overshadowed by Kim, who broke up with Kris Humphries, got together with Kanye West, and, by the end of the year, was pregnant with their daughter North West. Kendall and Kylie Jenner were growing up and gaining prominence too; they started appearing on covers themselves, like Seventeen and Teen Vogue.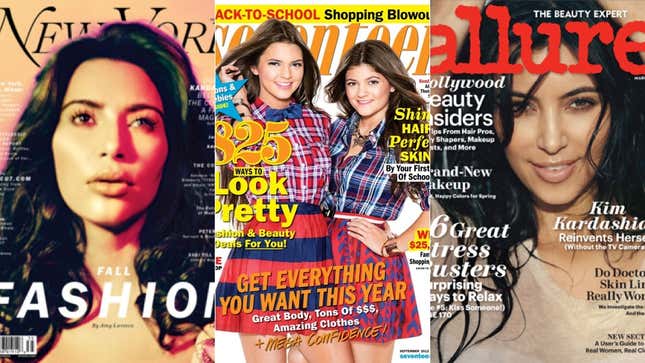 By 2013, Kourtney and Kim Take Miami was airing, Khloe's marriage to Lamar was disintegrating, and Kim gave birth to North. The older sisters were only covering top-tier general interest women's magazines, while the Jenner sisters were making their mark on magazines like Girlfriend and Kurv.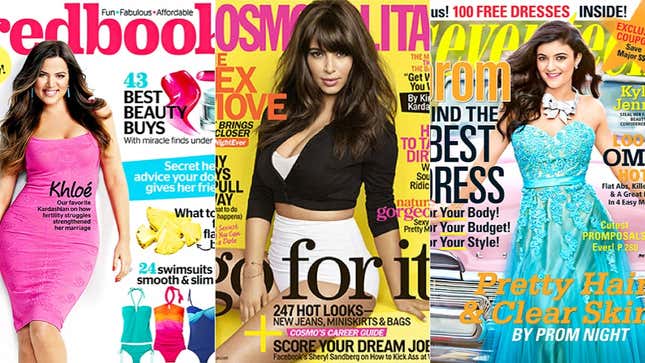 But it was 2014's covers that really demonstrated how far the family had come, largely because of Kim's Vogue appearance with new husband Kanye West and her nude Paper magazine cover. While the number of magazines the family appeared on had dipped, the quality of those magazines had substantially risen. Elsewhere: Kourtney & Khloe Take the Hamptons aired; Khloe started dating rapper French Montana; Kendall had begun modeling in earnest, nabbing impressive runway spots; and Kourtney, who was pregnant with her third child Reign, would appear nude for DuJour magazine.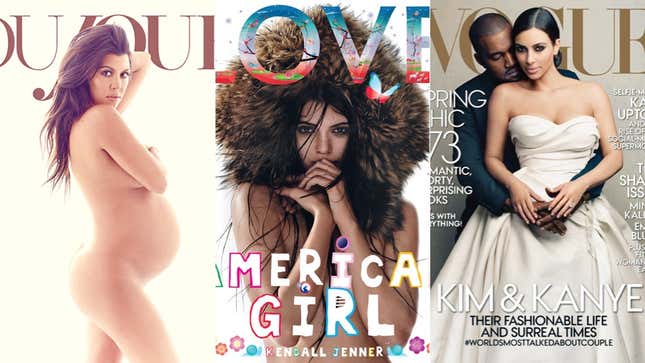 2015 looks just as promising for the family. As the 10th season of KUWTK premieres, Kendall has already gotten on the cover of Allure, Kim and Kylie have appeared in LOVE magazine with Cara Delevingne,and Kim has been recognized as a tech mogul on the cover of AdWeek, moving away from women's magazine fare and even fashion to legitimate business woman, based mostly on the success of her app Kim Kardashian: Hollywood.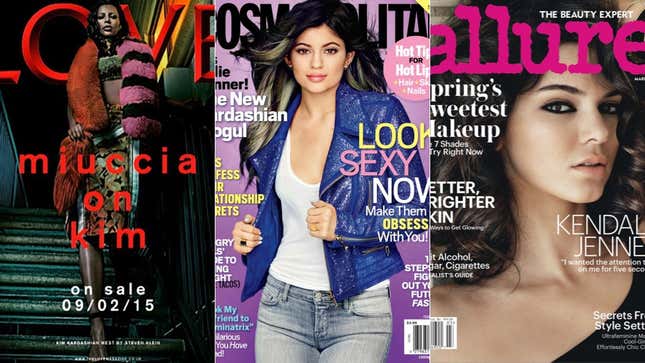 What of the Kardashian/Jenner men? While their fame has increased, their stories remain mostly relegated to the tabloids–or coverage of the tabloids–like Bruce Jenner's possible decision to transition and Rob's struggles with weight. Kris Jenner's ability to monetize her daughters' via their femininity and sexuality has not stretched to the men in her life.
Nor has it stretched to her own life. While Kris has nabbed a few of her own covers, her role has been that of the supporter, the pusher, the puppet master. She's occasionally gotten her own brushes with fame (see her in this recent LOVE mag video), but she's constantly in their shadow. It's been this way since the beginning, and it will likely be this way until the end. During season one of KUWTK, when Kim poses for Playboy, Kris ends up taking her clothes off too–but just for fun, in a shoot of Olympic-themed photos she says she's giving to former-Olympian Bruce. She's the joke, the afterthought, the punchline of the episode.
So while she may have just negotiated four more seasons of a show about her family, while her ex-husband might be getting his own show about his own new life choices, while her youngest daughters are becoming just as famous as her eldest, there's one Kardashian that's in every episode of the show, who made all of this happen, but is never the star. Her name is Kris.
Additional reporting by Ellie Shechet.
Images by Jim Cooke
---
Contact the author at dries@jezebel.com.