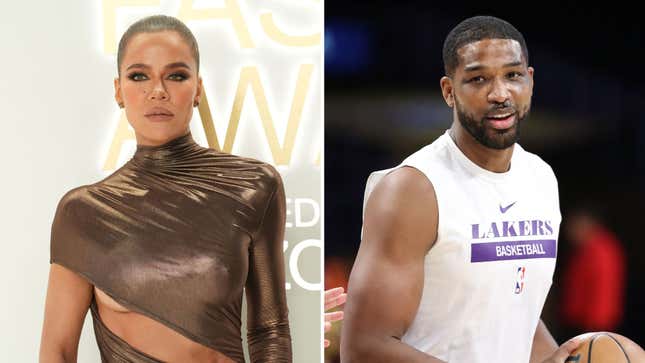 Over the last few weeks, the Kardashian-verse has been preparing for an elaborate soft-launch of a new—or shall we say renewed—couple.
Jennifer Aydin Had Women DMing Her After Relatable Cheating Scandal
Fans watched in disbelief as Kim Kardashian and mom-ager Kris Jenner repeatedly showed up to support Lakers player Tristan Thompson (also known as the lyin' cheatin' scoundrel who had a baby with another woman while he and Khloe Kardashian awaited the birth of their second child). Khloe and Thompson were seen grabbing McDonald's together—a sure sign of a budding relationship. Khloe was even spotted driving one of Thompson's cars. It felt as though audiences were being primed for an unsavory reveal: All of it screamed impending relationship (but softly).
Welp, it turns out that not only is Khloe seething over these reunion rumors, but "sources close to the two" told TMZ that she and Thompson are just "really really good at co-parenting."

The former couple are reportedly spending a lot of time together, but the gossiping gabbers insist that is simply because the couple shares two little ones—5-year-old True and 9-month-old Tatum, who was born via surrogate in August. They are operating as "one parental unit," without any romance. Khloe apparently wants her kids to spend as much time with their dad as possible, which, ideally, necessitates the two working seamlessly together and being friends.

The news comes after Khloe raged at fans in an Instagram comment for speculating about the nature of her relationship with Thompson earlier this month:

"Stop pushing this narrative. It's tiring. But I suppose You guys will continue the narrative you want regardless of what I say so what's the point," she wrote, adding that it's "exhausting" justifying why she and her family might include and support Thompson. "Most [people] are stuck at believing the lies because it's the narrative they want to fuel. Have fun…. Some things are just as simple as they seem…A family member supporting another family member ESPECIALLY during a difficult time in life [referring to Thompson's mother's passing]."

Well, cheers to the happy co-parents, I guess. And, just for the record, all of this would be much easier to believe if y'all weren't taking part in romantic gestures like getting McD's together!

---
The Succession cast's farewell posts have got me in my favorite combination of feelings: sad, horny, and completely unravelled. [Instagram/Daily Mail]
Tom Sandoval was spotted calling Rachel Leviss on his way to "fucking Pittsburgh." A bummer all around! [TMZ]
Speaking of bummers, Taylor Swift's rumored beau, Matty Healy, tried to explain the racist comments he made about Ice Spice in February, saying they don't "actually matter" and were "a little bit" bait for his haters. [New Yorker]
Formula One's Monaco Grand Prix pulled in some major star power including Tom Holland, Neymar, Orlando Bloom, Kylie Minogue, and…Charli D'Amelio? [Insider/Instagram]
Oh nothing, just Ryan Gosling reportedly hanging out at Disneyland alone for funsies. [Page Six]