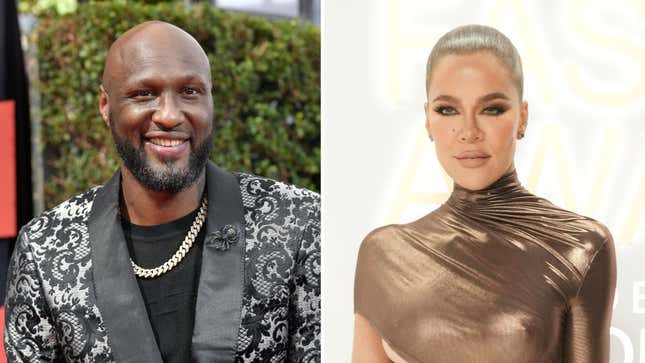 New year, same everything!
In TMZ's new television special titled Sex, Drugs and Kardashians that premiered Monday on Fox, Lamar Odom sat down to rehash the downfall of his basketball career, how Kris Jenner helped make him "some money" during his reality TV stint, and why he thinks the Kardashian family has handled their "shit phenomenally good" in the middle of a, well, shitstorm. But much of the special focused on his longtime sex and drug addictions, the dissolution of his marriage to Khloé and his near-yearly attempts to grovel for her forgiveness.
Britney Spears Escapes Family Drama By Going to First Bar
"Do I ever think I could be in love like that again? That could possibly happen…if I open myself up enough," Odom said in the special. He added he would "of course" get back together with Kardashian if she ever entertained a rekindling, but no longer feels comfortable or welcome to reach out: "I'm not a loser and I felt like I lost. I would love to just take Khloé out to dinner…[but] I'm too shy and I'm a Scorpio and I hate being told no or being denied. I'm afraid."

I will let Odom have this one because, for once, the man is correct: He should be afraid, and not just because he's a Scorpio. Odom and Kardashian were married for seven years, from 2009 to 2016, while Odom basked in the heyday of a championship-winning Lakers era and the entire Kardashian cult rose to unthinkable levels of fame and cringe. After regularly appearing together as a PDA-addled but mutually obsessed couple on Keeping Up With The Kardashians, the duo starred in the spinoff Khloe and Lamar (one of the few reality shows that no longer occupies any space in my brain).

In Monday's new doc, Odom called the spinoff a "blessing": "I was an amazing basketball player, but I know me marrying Khloé Kardashian gives me relevance in so many ways in the entertainment world… I knew what I signed up for. I was doing business with my wife. It's her business, so I'm making it my business…That was the happiest I've ever been in my adult life… She got me everything I wanted."

On the contrary, here's what Lamar got Khloé! He was caught regularly doing drugs, cheating on Kardashian, and released a video of himself bragging about his infidelity while high in 2013. He later suffered a near-fatal overdose at the Bunny Ranch, a legal brothel, in 2015, and the couple's divorce was finalized the following year. Their fairytale love story was, as a Peloton instructor might say, "done and dusted!!!"
"Khloé, you know, she wiped my ass. It don't get realer than that," Odom recalled of the days following his overdose. "She would bring me pictures of my mother, my grandmother, help me with my memory…I couldn't show how I really felt. I was hardly even talking. I could hardly say, 'Thank you, Khloé.' I could think it, but I couldn't express it."

Nevertheless, Odom persisted…in shooting a shot that is destined to airball over and over and over again. In his 2019 memoir Darkness to Light, he professed his love to Kardashian—the only woman, he says in the special, that ever made him feel "secure" enough to get married. Who cares that Kardashian was dating the equally messy Tristan Thompson at the time and had welcomed daughter True the year prior, am I right?! And though Odom put Kardashian through some "shit that y'all don't know," the pot was certainly unafraid of calling the kettle (Thompson discovered he was expecting a baby with another woman while encouraging Khloé to pursue a surrogate for pregnancy last year) black.

"When she gets hurt, of course that hurts me. I think what hurts me more is that it's not my place to protect her. I can only protect her if she says, 'Lamar, I need your help with this,'" Odom said. To be clear, Lamar, she has not asked for your help with this.

While admitting he had an affair with cocaine, Odom says he's not a "druggie anymore" and that he has both his sex and drug addictions under "control." The one thing he does not seem to have under control is his addiction to simping for his ex-wife—the person he used to ditch "to go do drugs with some random woman." As Kylie Jenner might say, 2023 might well be another year of "realizing things."