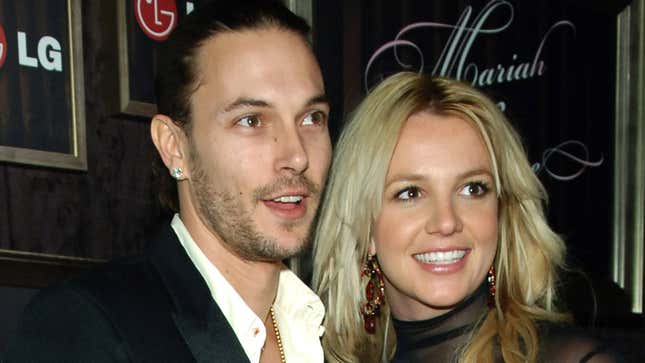 No news is good news when Kevin Federline is at its center. This weekend, the Daily Mail published a bombshell article with the extremely Daily Mail headline: "EXCLUSIVE: Britney Spears' family say they fear she is on METH and will die like Amy Winehouse: Father of her boys Kevin Federline says loved-ones are 'terrified' she is on the Breaking Bad drug - son Preston says 'I hope she'll listen to us... before it's too late.'" The piece alleges that Spears' and Federline's sons, Sean Preston Federline and Jayden James Federline, have seen drugs delivered to their mother's home, that Spears' father Jamie Spears fears his daughter will "meet the same fate as English singer Amy Winehouse," and that Federline fears Spears is taking meth. Literally, he's quoted: "I fear she's on meth—I've been praying someone would make it public and that she wakes up," he is quoted as saying. "It's terrifying. She is the mother of my boys." Federline also said, reportedly "several times," that, "'Every time the telephone rings, I fear that there will be devastating news. I don't want the boys to wake up one morning and find their mother has taken an overdose." A similar report with the same byline, Daphne Barak, and using some of the same quotes ran in The Sun.
Stars of 'Once Upon a One More Time' Test Their Britney Spears Knowledge
Well, within the day, Federline sent a statement to TMZ calling the report false. Here it is:
It saddens our family that Daphne Barak and Erbil Gunasti have decided to fabricate lies and publish the heart ache our family has endured, along with the trauma of our minor children in the Daily Mail and The Sun. We did allow Daphne & Bill into our home because we trusted them, but that trust was lost and we severed ties back in March for many reasons we choose not to go into here.

It is very distressing that she continues to harass our family when we have repeatedly asked her to leave us alone. As was previously published, our family did speak with Ms. Barak and Mr. Gunasti a few times, and this was done in a respectful way with love & compassion for Britney and the Spears family. Her lies and attempts to exploit minors is click bait and another repulsive example of where, unfortunately, certain journalism has sunk today.
Barak refers to Gunasti in the article as her producer, and says the quotes were procured during the filming of a "new documentary." Previously, Federline gave a TV interview to Barak in which he criticized Spears' social media presence and credited her father, who was responsible for his daughter's conservatorship, with saving Spears' life. All this is to say that Barak should have Federline's supposedly fabricated words on video, and in the event that they are published, as teased, the truth will out incontrovertibly. Release the receipts, Barak!
But not so fast, if you're inclined to take sides. Spears' lawyer alleged to TMZ Barak "also repeatedly sought to contact Britney under false pretenses, using her children as bait, which is outrageous. This was poor and shoddy 'journalism' even in today's era of clickbait journalism." The Daily Mail engaging in ethically questionable attempts at news-gathering? Well, I never thought I'd see the day! (Allegedly.)
For her part, Spears responded to the report, having reactivated her Instagram after deactivating it Thursday. On Sunday, Spears posted what appeared to be a stock photo of bullying with a lengthy caption that referenced her son Sean Preston's quote Daily Mail piece. It began: "The fact that people are claiming things that are not true is so sad ... This may not even be them saying such things because it doesn't make any sense to me for them to be saying that …"
Good luck, everybody!
---