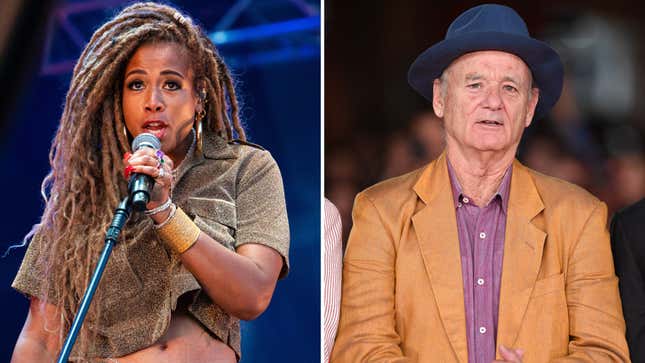 Occasionally you'll come across a piece of celebrity gossip that makes you tilt your silly little head like a dog confused about object permanence—and that is exactly what happened when I read that Kelis is reportedly dating Bill Murray. I'll give you a moment to do the same.
Crush of the Week: Daniel Radcliffe's Weird Al
According to The U.S. Sun, Murray, 72, and the "Milkshake" songstress, 43, were spotted together at London's Hoopla Festival where Kelis was performing. Murray watched her from the side of the stage and has also been at a few of her other shows recently.
A friend told the outlet, "They've met up in the States before which got people in the industry talking, and now are meeting up in London while they're both here. They've clearly hit it off."
Yes, certainly a lot of people in the industry, and dare I say, even outside of it, are talking! What a pair! Though, I'm inclined to perceive it through Airbud logic and remind myself that there is no rule saying Kelis and Bill Murray can't date.
Supposedly the two bonded over the recent bereavements of their spouses. Kelis' late husband Mike Mora passed away just over a year ago after a battle with stomach cancer. Murray's estranged wife, Jennifer Butler, passed away in 2021.

Of course, the elephant in the room, or rather the spilled milkshake in the yard, that makes this news not so fun, is the string of abuse allegations against Murray from Butler—as well as loads of unsavory on-set behavior like straddling a production staffer and saying disrespectful things to Lucy Liu. Whatever the nature of their relationship is, I hope this man is on his absolute best behavior around Kelis.
Browsing through her Instagram, the musician is currently on a yacht of some sort off the European coast—maybe Italy or Spain—with her kids. I did my due diligence and looked for anyone that resembled Murray in the reflection of her sunglasses with each selfie she took. Nothing really to report other than she looks great and seems to be enjoying herself. I hope that's the case with or without that ghostbuster of a man in her life.
---