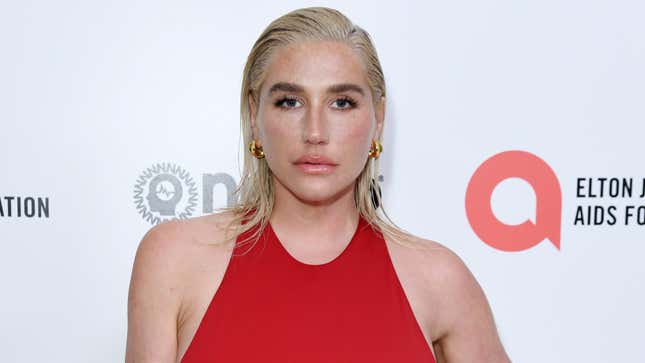 After almost a decade of litigation—which is ongoing—Kesha is ready to shout her truth from the rooftops: both with new music, and with a series of revelations about her health that she's long been dealing with privately.
In a profile in SELF published Tuesday, Kesha, now 36, opened up about a horrific medical incident for the first time: "I almost died in January," she said.
Last year, Kesha froze her eggs. Weeks later, she performed in the Bahamas on New Year's Eve, and discovered that she couldn't walk after the show. Upon going to the hospital, doctors found that she was suffering from an "uncommon yet serious complication from the fertility procedure," as SELF phrased it, which was in part caused by a weakened immune system. She spent nine days in a Miami hospital. "I finally feel recovered, but it took a couple months," she said. "It was horrifying."

That weakened immune system had been caused by common variable immunodeficiency (CVID), which she was diagnosed with in 2022 prior to freezing her eggs. The lifelong primary immunodeficiency disease puts her at high risk of infections, and in Kesha's case, the immune system may accidentally attack healthy parts of the body while trying to ward off infections. She told SELF she hadn't talked about the disease yet fear of people writing it off as her being "whiny" and "privileged."

Though Kesha didn't share specifics from her January collapse, she did say that the scary aftermath of making such a huge decision for her reproductive health had unsettled her. She'd chosen to freeze her eggs because her new album, Gag Order, was coming out (it dropped in May), and she didn't want to be rushed into making a decision about having kids. She went through the egg freezing process with a boyfriend whom she chooses not to name, adding, "I think making a family is everyone's choice, and family can mean so many different things to everyone."

Though she stopped short of talking about abortion, Kesha told SELF that she believes people should always have the option to decide if and when they would like to give birth. "I just was taking my reproductive health into my own hands," she said. "And I stand by everyone doing that and [honoring] your body."

Kesha wrote Gag Order during the pandemic about the hardships she'd endured into adulthood, including her legal battle with former producer and ex-Kemosabe Records label head, Lukasz Sebastian Gottwald, aka Dr. Luke. In 2014, she filed a lawsuit against him alleging sexual assault and battery and sexual harassment. (Dr. Luke has denied these charges). Dr. Luke then filed a countersuit alleging breach of contract and defamation, and the litigation has continued to this day. Without a resolution, Kesha remains bound to her contract, meaning Gag Order was released as a Kemosabe product, and, in a dark twist of irony given the record's subject matter, Dr. Luke will profit off the record. The producer's defamation suit against Kesha is currently set to go to trial in July.

Kesha said that the hardships she'd previously been "too nervous" to address the hardships she does in Gag Order. "I didn't want to bring people down—I really like to make people move their energy and dance and be happy," she says. "But I was doing myself a disservice as an artist. ...I had to shed light on the darker sides of what happens in my mind. This was me saying, 'Yeah, I've had this self-imposed, implied gag order since I can remember, 'cause I'm still in litigation.'"

While this album explores some of her darkest emotions, including those connected to her ongoing recovery from bulimia, she's doing her best to harness an adult version of the wild child image she once projected—someone who now "fucking love[s] food," her cat, and, much to this writer's surprise, God.