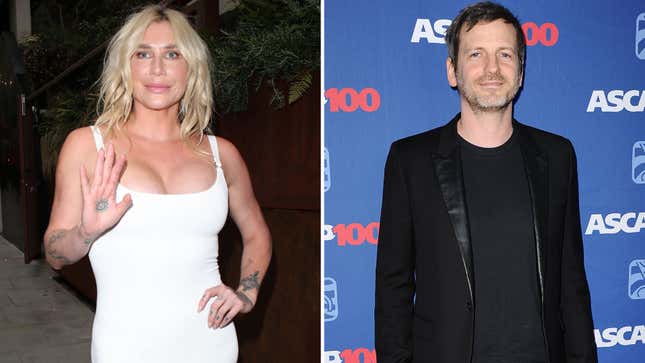 Next month, Kesha and Dr. Luke's court case will finally go to trial, almost 1o years after she first brought sexual assault allegations against the music producer and he countersued for defamation in 2014. The past decade has wrought a whole ping pong game of appeals between the two parties, including one that ruled favorably for Kesha yesterday.

Mitchell Slaggert Chooses His Wingwoman
New York's Court of Appeals ruled that Dr. Luke, née Lukasz Sebastian Gottwald, is a public figure and therefore must prove in his defamation case that Kesha acted with "actual malice" in making the allegations against him back then. This decision reverses a mid-level New York appeals court ruling in 2021 that Gottwald is a private citizen, which lowers the threshold for proving defamation from "malice" to simple "negligence."
Fortunately for Kesha, Gottwald's apparent egomania worked in her favor, as the New York Court had a bunch of statements by the producer himself on which to base their decision. Judge Michael Garcia wrote:

By 2014, when Gottwald [Dr. Luke] initiated this defamation action, he was, by his own account, a celebrity—an acclaimed music producer who had achieved enormous success in a high-profile career. As self-described in the complaint, he "has written the most Number One songs of any songwriter ever" and "was named by Billboard as one of the top ten producers of the decade in 2009."
Those statements have come back to bite him in this ass as he now tries to convince a judge that he's just some dude being picked on by a big pop star. Gottwald's lawyer, Christine Lepera, remains assured that her client will come out on top. "At trial, Ms. Sebert [Kesha] will be required to defend her harmful and long-standing press campaign against Mr. Gottwald," she said.
Meanwhile, Kesha has civil rights groups on her side. In April 2022, Legal Momentum, Equal Rights Advocates and the National Women's Law Center filed a brief in New York State Supreme Court arguing that Gottwald's countersuit amounts to continued sexual harassment of Kesha: "When the abusers have money to hire lawyers, that retaliation often comes in the form of turning the law that is supposed to protect survivors into the instrument to torment and threaten."
The defamation trial is tentatively scheduled to start in July.