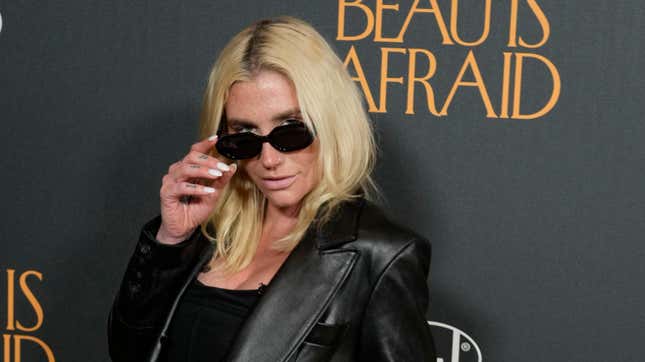 You know that scene from the first season of The White Lotus in which Jennifer Coolidge rants, raves, then repeatedly releases plaintive wails—and some of her mother's ashes—across the Pacific Ocean? Well, that's what Kesha's new music feels like: a sonic summation of grief, angst, and all-out fury, and how it feels to see it scattered into the ether and disappear.
In "Eat The Acid" and "Fine Line," duo singles from her forthcoming album, Gag Order (out May 19), the singer songwriter allows herself some uncomfortable, borderline claustrophobic introspection and, to the tracks' benefit, resists the urge to recast her trials and tribulations as triumphs agreeable for her audience as she did on Rainbow (2017).
"It's scary," Kesha recently wrote in a moving essay about the Rick Rubin-produced record for Nylon. "I wanted to make an album that sounds the way my head feels. Dipping in and out of depression, gratitude, rage, and hope."
Dip, I'd say, is an understatement. She's clearly making up for past restraint in these new tracks via stripped-down accompaniments and unvarnished vocals. On "Fine Line," she sings:
All the doctors and lawyers cut the tongue outta my mouth

I've been hidin' my anger, but bitch, look at me now

I'm at the top of the mountain with a gun to my head

Am I bigger than Jesus or better off dead?
"Whenever an ugly emotion would announce itself, I would silence it. Dance it away, drink it away, shop it away, fuck it away, or just shut up and vibrate violently on the inside," Kesha recalls to Nylon. "Anger, sadness, frustration — whatever it was, that's not what I was here for. It was a burden to be anything but fun and grateful. Which I am. Thus the internal battle rages."
Kesha isn't afforded exclusively private battles, though: In just three months, she'll once again face famed music producer, Lukasz "Dr. Luke" Gottwald, in court over her claims that he drugged and raped her as they worked together under his label, Kemosabe. Gottwald has countersued her for defamation, claiming her accusations were simply an attempt to extort a better contract.
"There's a fine line between what's entertaining and what's just exploiting the pain," she continues on "Fine Line," as if in direct reference to the forthcoming proceedings. "But, hey, look at all the money we made off me."
The album's title, Gag Order, is quite likely another allusion to the legal back-and-forth and what's yet to come. In an interview with Rolling Stone this week, Kesha said she couldn't comment directly on the trial; but she did imply what it's cost her. "I feel as if there has been an implied gag order for a very long time now," she said. "With my ongoing litigation hanging over my head, I have not been able to speak freely because I know everything I say is scrutinized."
Again, she turns that anger outward on "Fine Line," seemingly speaking straight to all of her detractors.
The years keep dragging, I'm at the end of my rope

The noose gets tighter and tighter, I'm tasting blood in my throat

Don't fucking call me a fighter, don't fucking call me a joke

You have no fucking idea and trust me you'll never know
"Eat The Acid," though equally contemplative, is evidence of a different kind of exorcism for Kesha, as she describes purging cynicism and permitting herself to talk to God and see the light. Faith, one may glean, hasn't been an easy embrace for Kesha until this very moment. "I heard a voice inside my mind," she sings. "The universe said, 'Now's your time' / And told me everything's alright."
Frustration and forgiveness are inextricable to "Eat The Acid" and "Fine Line," as Kesha excoriates the industry, the public, and all of the places where "fuckers pushed [her]." Though this time around, her emotions—embraceable or not—are none but hers to expel.