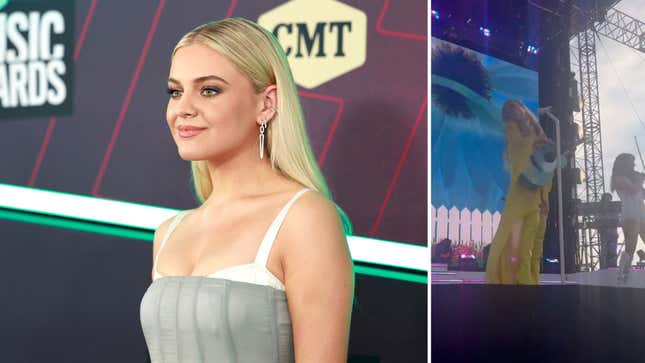 On Wednesday night, Kelsea Ballerini was struck in the face during a performance by an object hurled from the audience—making her the latest in what's become a worryingly long line of pop stars who've recently become moving targets for people who don't know how to act at a concert.

Raquel Leviss Told Us 'I'm Like, A Good Person' Just 48 Hours Before #Scandoval
As the country singer performed "If You Go Down" at Outlaw Field at the Idaho Botanical Garden in Boise, she was abruptly pelted by—upon closer examination—what appeared to be a bracelet thrown by an attendee. Come on, guys. It's still pride month, damn.
Obviously, Ballerini had no choice but to pause the gig. (A video on Twitter showed her stepping away from the microphone and disappearing backstage.) It's unclear if the fan who threw the item was removed from the venue or if they might face charges like Bebe Rexha's assailant, who said he thought it'd be "funny" to chuck his phone at the star during a recent stop on her tour.
When she returned, Ballerini very kindly addressed the crowd: "Can we just talk about what happened," she began. "All I care about is keeping everyone safe. If you ever don't feel safe, please let someone around you know."
"If anyone's pushing too much or you just have that gut feeling, just always flag it. Don't throw things. You know?"
If the last month has revealed anything, it's that it's simply no longer easy for certain people to maintain safety—or just like, general decorum—at concerts. First Rexha was hit by a phone, then Ava Max was slapped (!) by an attendee who'd managed to evade security and get on stage (!), and of course, Pink was just tossed the ashes of a fan's mother as if the remains were a dime bag. I'm only 29, but in my day, we just threw pieces of paper scrawled with our phone numbers on stage...that is if we were ever that close to it.
It should go without saying that ruining the experience for fellow concert-goers in pursuit of what Gizmodo's Kevin Hurler identified as a "desperate attempt at a viral moment," is both inconsiderate and downright dumb. And, while we're at it, I'll continue to quote my colleague: "While artists themselves have some responsibility in managing their crowds and encouraging everyone's safety during concerts, fandoms—some of whom will continue to attack the same artists they champion with phones, ashes, Skittles, or their own open-faced palms—need a reckoning."
*Insert a safe mic drop here*
---