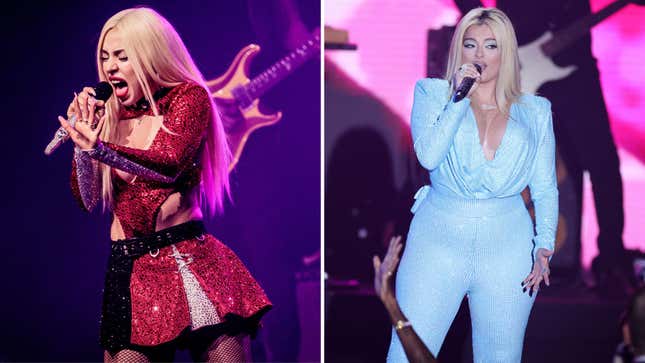 It's been a freaking week! While every ounce of my attention span has been dedicated to reading articles about Cardi B feuding with the adult stepson of a billionaire aboard the Titanic submersible, another battle has been taking place. Two of our Albanian pop princesses, Ava Max and Bebe Rexha, have been attacked (in separate incidents) while on stage this week!
You may have already heard that, on Sunday, a concertgoer at Bebe Rexha's New York City show threw a phone at her as she was performing. A rando man named Nicolas Malvagna, 27, was brought into custody for the assault and allegedly said, "I was trying to see if I could hit her with the phone at the end of the show because it would be funny." Wrong. Not funny!
Bebe Rexha posted a selfie the next day showing her bruised eye and stitches with the caption quoting the title of her recent hit, "I'm good." I'm glad she's OK and glad that she's able to bring a little self-promotion into her healing journey.
Then on Tuesday, a fan got on stage—despite a security guard's attempt to stop him—at Ava Max's concert in Los Angeles and slapped her! "He slapped me so hard that he scratched the inside of my eye," the singer wrote on Twitter. "He's never coming to a show again." And by that, I hope she means he is never coming to any music or theatrical show of any kind by any performer for as long as he lives!
These attacks were not coordinated in any way, but I'm still on high alert for the safety of our third beloved Albanian pop star: Dua Lipa. Protect her at all costs.
---