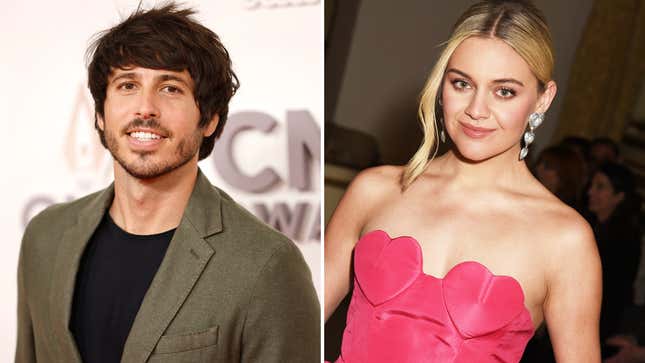 On Valentine's Day, Kelsea Ballerini released a surprise EP and short film, Rolling Up the Welcome Mat, all about the dissolution of her marriage—and it seemed like that'd be all the comment the country superstar would make on the topic. But Ballerini dropped into Call Her Daddy to share more details on her relationship and disclose the actual price of leaving her marriage.
That price? "Half the house" she bought for herself and her ex-husband, country singer Morgan Evans—a five-bedroom house in Nashville that she coated with floral wallpaper and overstuffed velvet chairs, giving it the maximalist appearance of my dreams. (In November, Ballerini bought Kacey Musgraves' house.)
"Who you marry is not who you divorce," Ballerini told host Alex Cooper. "As he's putting out a song about being blindsided, he's taking half the house that he didn't pay for." Ballerini said she did have a prenup, but "it was kind of like [the house] or alimony."
The singer had just gotten through playing a show before flying back to Nashville to pack up her part of the house. Then she flew back to Denver for another show, where she had the conversation with her team. "'Can you articulate to me that I have a choice right now, to give up half of a house that I bought and he contributed, but not equal ... or stay, legally, in this marriage and have public alimony hearings? Indefinitely?'" she recalling saying. "And they're like, 'That's correct.'"
"And I was like, 'Give him the house. I want out,'" Ballerini said. "'I want out. Get me out.'"

One of the things leading up to their eventual divorce will be familiar to any couple: kids. "The moment I think it was over over was, I was realizing I'm not ready for kids. And that's a fundamental difference," she said. "I don't know if I want kids at all or not, but that was something we had talked about early on and that was something that I was changing on, you know, because he was ready. He was like, 'I don't want to be an old dad,' is what he kept saying. And I was like, 'I'm just not there yet.' I can't do that to save this."
When Ballerini told Evans over dinner that she wanted to look into freezing her eggs for her 30th birthday, it ended up being "not a good day," she said.
"I think that was when I was like, 'There's a fundamental difference here that has happened and that has shifted,'" she continued. "It was like, 'He wants something out of life and I'm not there.' Whether I'll get there or not, I don't think it's with this person."
At least she got a fantastic divorce album out of it all.