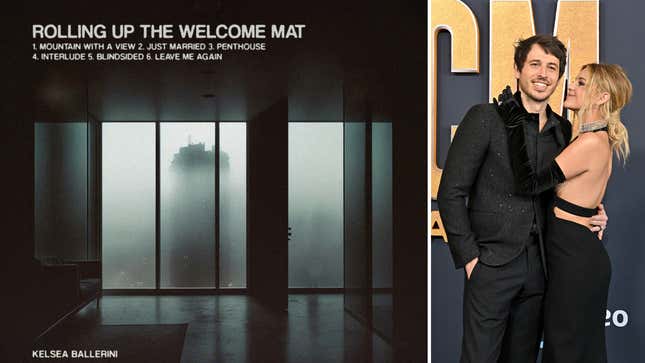 I will always defend country music. I think it's a haven for incredible storytelling and drawn-out vowels alike. And I'm a big fan of divorce! Staying in an unhappy union when no-fault divorce is still legal is just silly. So, maybe I was predisposed to love Kelsea Ballerini's surprise divorce EP, which dropped on Valentine's Day. But I didn't expect to love it so much that it's all I can play—especially following Rihanna's amazing Super Bowl performance on Sunday.
But I, a queer lady happily coupled, cannot turn off Rolling Up The Welcome Mat, a six-song EP about the dissolution of Ballerini's relationship with fellow country singer Morgan Evans. It's a blunt and clear-eyed take on the divorce album genre with songs like "Blindside," which asks her partner to consider if the end truly came out of nowhere, and "Penthouse," which questions if the pair's differing levels of success led to resentment.
There are no allegations of infidelity or big blow-ups; instead, Ballerini sings about couples therapy, uneven star power (well, her star power,) conflicting schedules, and emotions graying after a technicolor wedding in their early 20s. One of the most devastating lines: "It was love/then it was just married."
Because of the timetable it typically takes to make an album, by the time a mainstream artist releases deeply-personal music, they're usually far enough removed from the event or have had enough time to process it. It can take months to print vinyl, bigger albums need longer lead times, etc., etc. But Ballerini's divorce was literally settled in November after filing back in August—so in less than six months, and by using the short EP format, she's already delivered us the first draft of her post-divorce life.
G/O Media may get a commission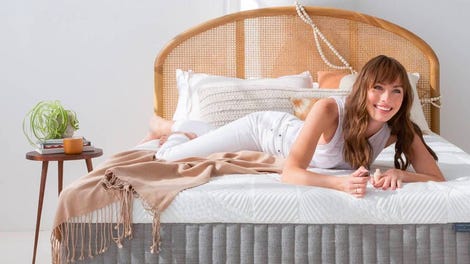 Sleep Sale
Sleep Sale - Brentwood Home
And these are some of her best songs, even if Track 4, titled "Interlude," is a little cringe-y—the 45-second "song" is essentially a very long bridge that's pretty much just spoken-word poetry.

"I'm blowing up my life, but I'm standing by the crater / I walk out on the stage, and go cry about it later / Good thing I'm good alone / 'Cause that's how I'll sign the papers"
But it sounds like the spiritual successor to Kacey Musgraves' "Breadwinner," which is about Musgraves' own less-successful-than-her ex-husband, singer/songwriter Ruston Kelly. Both women chose to end their marriages, then write music about being in the throes of divorce, but Ballerini's EP feels more raw, real, and confessional. (Plus Ballerini didn't have the burden of following up the Grammy-winning Golden Hour, Musgraves' fourth album that won Album of the Year in 2019.)
Ballerini also took a Taylor Swift approach to the EP, dropping a 20-minute short film, which takes place inside a very modern glass house, of the same name. Co-written and co-directed with Ballerini's frequent collaborator, Patrick Tracy, the entire thing is so gray. You feel like you're still in the midst of Ballerini figuring out how she feels in real-time.
When she announced both projects, Ballerini posted on Instagram that this was her "healing journey." And seeing how her last album, "Subject to Change," was only released in September, it really did feel like a surprise. The EP is a departure both sonically and lyrically, giving the country singer room to grow more into her crossover era—like her hero Shania Twain—if she wants.
"here's my healing journey. here's my heart. here's my truth. i've never been this open, i've never been this bold, and i've never been this proud of my art," Ballerini posted. "so with love and respect, i'm rolling up the welcome mat. six song story and short film out now. happy valentine's day. ❤️‍🩹"
Watch the short film here, and close out Jezebel's Horny Week by feeling horny for a gorgeous (and short!) divorce album.