Everything is stupid, and so are we. Welcome to Jezebel's Stupidest Summer Ever, a season-long celebration of our worst, most idiotic thoughts and opinions.

Usually these product diaries, including my own, are about beauty products. They include gorgeous shelves, products styled and neatly arranged with their labels facing out. This is not that. In an effort to make some kind of point that is now lost on me and probably Julianne, who is editing this, I made a list of every single consumer product I touched on Thursday, June 21, 2018. I did not include food or clothing. But if you must know, I dressed in my typical outfit: jeans and a black t-shirt. Birkenstocks, gold hoop earrings. I ate leftover pizza for lunch, and I'm sorry to say, beer, cheese fries, and half of Clover's chicken fingers for dinner. (More on that later.)
Morning
I wake up under the most luxurious consumer good in my house: cotton sheets from Brooklinen, which my husband Mark gave me as a present. The bed is an Ikea MALM, which I got for free when a friend moved. I use a combination of two alarms: Louise, the louder of my two dogs, and an iPhone 6 which is sitting atop a nightstand that's also from Ikea. It's that unvarnished one that cost like $9.99 that they don't sell anymore. I wish I could tell you that I do a bunch of sun salutations and drink some lemon water with cayenne or whatever, but actually, I lie in the MALM for like 18 minutes looking at the Instagram profiles of people I barely know while Louise whines.

Mark and I alternate morning dog walks. Today is my day. I put the coffee on before I take Louise and the other, politer (better?) dog, Rosie for a walk. They wear a red Good2Go nylon collar and a pink nylon Good2Go, respectively. I keep them from running away using a 5280DOG Braided Rope Leash in royal blue, and another leash that Petco no longer sells. It's black. I pick up what they produce on the walk with plastic bags from Duane Reade.

G/O Media may get a commission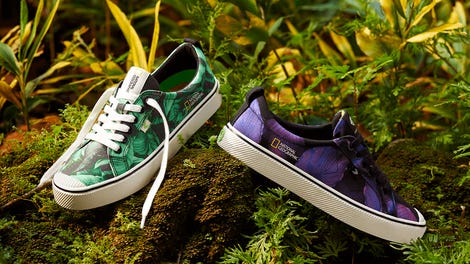 New New New
Cariuma + National Geographic
I return from the walk and wash my hands with Mrs. Meyers Clean Day Soap in the basil scent, and feed the dogs a food called Instinct Raw Boost. We're running out of soap so I ask Mark to buy some when he goes to the store later. He says that hand soap is a scam and that I've been "taken in by big soap." Perhaps. To pass the two minutes it takes me to dish out the kibble, Louise gnaws hungrily on the head of her squirrel. Coffee has been brewed in a Bonavita coffeemaker, which was a gift from Mark's parents so I don't know the exact model, and goes in a mug that says "Reny's Maine Adventure" on the side. I got it at Reny's, an outdoor store in Maine, where my friend Molly lives. She declared "Wow, the price [$1.99] is right on these mugs!" so we each bought one. I turn off the air conditioner. It's made by Frigidaire but I got it used from the same person who gave me the bed, so I don't know what model. This is making me feel like I get a lot of free stuff. I don't mean to brag, but maybe it's my winning personality. Who can say.

By shower time, I've already had so many interactions with consumer goods, you'd think I'd be ready to throw in the towel (get it? It's because by now I'm in the bathroom) on capitalism, but no way. The bathroom is where things get really fun. I use Seventh Generation 100% Recycled Extra Soft + Strong Bath Tissue because I am a big Maya Rudolph fan (who isn't? She's a national treasure) and it is soft on the butthole. I wash my hands again, this time with bar soap of unknown origin. I floss with Oral B Glide pro-health comfort plus, then brush with that bamboo toothbrush I told you about last time (a new one, fear not), and Crest 3D white Brilliance because my teeth are three dimensional. I pull aside a shower curtain from Duane Reade, step over a woven bath mat of unknown origin, and step into the shower. I suds my hair up with Acure Vivacious Volume shampoo. It smells like peppermint. I use just a little bit of Verb Ghost Conditioner, because ghosts rael.

For my face, on goes Cosrx Low pH Good Morning Gel cleanser. I saw this in Joanna's product diary and thought I'd give it a whirl. It's now my favorite part of my shower routine. It's gentle, but has a bit of a zing to it, just like your narrator here. I wash my bod with Whole Foods 365 brand citrus grapefruit body wash.

I take a moment after the shower to sit on the toilet seat with my laptop, which is a MacBook Pro I bought used from my brother, making sure that I've gotten all the names of these products exactly right, during which time Mark asks "What's the point of all this?" and I am forced to admit that I'm not completely sure. I offer that it's to thoughtfully tabulate all of the consumer products I use in a 24-hour period. Mark wants to know whose idea this was. I am again forced to admit something humbling: it was mine.

He heckles me throughout the writing of this. Louise and Rosie's attitudes and demeanors suggest that they see things the same way Mark does; their stance on baths and anything toilette-related is firmly against.

The names of products is half the fun. They're so long! You'll recall that the name of my toilet paper was nine words, none of which were "toilet" or "paper." I love it! In this spirit, I put in my contact lenses, which are the (disappointingly) concisely named CooperVision Biofinity. They have been bathing all night in Well at Walgreens Sterile Multi-Purpose Solution For Soft Contact Lenses.

I dry myself off with a bath towel bought from Bed Bath & Beyond. I regret what I'm about to tell you, since we've come this far, but I remember neither the make nor model of the towel. It's white. I spritz my face with Dr. Hauschka Facial Toner. Is toner real? I think it is. It's hot out so although there's no need for this, I dab my face with Fresh Vitamin Nectar Moisture Glow Face Cream. Kiehl's Creamy Eye Treatment with Avocado goes on my orbital bones, and Vaseline goes on my lips. Almay Anti-Perspirant & Deodorant for Sensitive Skin, Roll-On, Fragrance Free goes under my arms. I spray John Masters Haircare Scalp on my scalp. I get some in my eye. I think about PAM Cooking Spray, a product I do not personally use, while I do this. This makes me think about my mom, who is named Pam. I should call her.
I use Elta MD Skincare UV Clear Broad-Spectrum Tinted. I didn't order tinted, but that's what came, so I'm using it. I generally find that life is too short to call customer service unless it is an absolute emergency. Benetint goes on my lips and cheeks. Glossier Boy Brow goes on my pubes. Just kidding! It goes on my brows.
Mid-Day
I pack my lunch in an Arctic Zone Leak Proof Container, aka tupperware, but it turns out Tupperware is actually a brand! And not a brand I actually own. I use the MTA New York City Subway to get to work. I thought long and hard about whether to consider my MetroCard a consumer good, since it is supplied by a government agency. I went for it because the government subsidizes a ton of industries that are responsible for the products that end up in our homes and lives (wake up, sheeple), so why not include the subway, too. My MetroCard lives in my Madewell Post Wallet, which I keep in my purse, a Baggu Leather Drawstring in black. On the way to work, I read a book, Black Tickets, by Jayne Anne Phillips. It is published by Vintage Contemporaries.

At work, I fill a Nalgene Water Bottle (Wide-Mouth, 16 oz.) with water. I apply Benebalm Hydrating Lip Tint to my mouth. I do this lip balm thing four times over the course of the day, which I come to realize, as I write this down, is far too many, and I'm almost certainly developing some kind of lip-based addiction that will prevent my lips from manufacturing normal amounts of lip oil (???). My standing desk and MacBook Air have been provided by my employer. I thought I would enjoy having a standing desk, since I read on the internet that it prevents headaches. (I get a lot of headaches.) In reality, I hate my standing desk more than I can possibly say, and usually sit on the couches at work. At 3 p.m., I take two Walgreens 200mg Ibuprofen tablets recreationally. Just kidding, I have a headache.

I am struck by the fact that while at work, I use pretty much nothing other than my computer, lip balm, and water bottle. I use the bathroom several times during the work day. The toilet paper in there is an unknown brand. I wash my hands with another unknown brand of soap (each time returning to Mark's words about my susceptibility to Big Soap's messaging), and dry my hands with paper towels (brand again, unknown). How boring! It's almost like we use more consumer products at home in our leisure hours than at work because society has taught us that buying things and using them is a substitute for either community, recreation, or even genuine joy. Haha just kidding!

Evening
By the time the day is over I am so exhausted by making note of everything I've touched that when a couple of coworkers propose happy hour I am, as the hour would suggest, happy. Mark will walk Rosie and Louise. My best guess is that he will also use their pink and red nylon Good2Gos but who can say, and besides, this is not about him.

Happy hour goes on forever because there's a lot to discuss about our workplace. We order a bunch of beers and tequila sodas, along with a giant plate of cheese fries and a bunch of chicken fingers. (I believe my body is a temple.) We discuss vegetarianism for a little while. I apply even more Benebalm, despite vowing to limit my consumption of this product.
I chew Orbit Sugarfree Peppermint Gum on the way home, because of the chicken fingers.
I return to my apartment and wash my hands with the mystery bar soap. It's late when I get home, but I never, ever go to sleep without washing and moisturizing my face. (Just kidding, I do that all the time—it's why my face washes always last forever.) Tonight, invigorated by the protein in the fingers, I have the energy to apply Bioderma Sensibio H2O to my face, then wash with Cetaphil Gentle Skin Cleanser. Differen goes on my face too.
I brush my teeth with the aforementioned Crest 3D White Brilliance. I remove my contact lenses, and they return to their Well at Walgreens Sterile Multi-Purpose Solution For Soft Contact Lenses soaking chamber.
My plan had been to watch an episode of The Americans on my laptop, because I am very attracted (sexually) to both Phil and Elizabeth, but I do not because I'm too tired and Mark is asking me more questions about this blog post. "Is it sincere?" I don't know how to answer this question, about the blog or anything else in my life. "Do you rate the products?" I tell him I do not. "Do you mention the toilet paper I bought us?" I tell him yes. He asks if I mention that it is "soft on the butthole." I promise to include that in my writeup. I kiss him, Rosie, and Louise good night. I ready myself for another day of consumerism, and turn off the Ikea Renarp Wall Clamp Spotlight (White) that hangs next to the MALM.