In an attempt to forget that the chances of me and my friends dying by nuclear winter followed by nuclear summer (*~nUcLeAr sUmMeR 2018 4-evR~*), I, like many women I know, have spent a little over a year performing an existential, anxiety-fueled science experiment upon my face.
Over this period, I've spent hundreds beyond hundreds of dollars and hours of lost productivity on products and reading about products. First (ages ago), I bought all the Shiseido products because I heard that line was "good," then I bought all the Biologique Recherche products because I heard that line was "the best." Then, I continued to develop just horrible cystic acne around my chin and lips, about which some Jezebel commenters have graciously commented, "Herpes?" So I went to a dermatologist and began a long journey of finding things that work and don't just look good in my medicine cabinet, and here I am today.
8 a.m.
Usually the first thing I do after my cat has harassed me awake is check Twitter, which is one of many causes of my generally poor mental health. It also causes me to remember my mortality as soon as I greet the day, which, I imagine, is also how medieval nuns also began their days, so that's cool :). Because of this, I jeté into the bathroom and perform my morning routine with haste so as to prolong my youth.
Some days I shower in the morning and some days (like if I've exercised the night before and showered then, or if my hair looks great), I do not. If I do, this is the time. I wash my hair with Ouai Repair Shampoo and Smooth Conditioner—a combination I have decided is correct for my vaguely Jewish hair. The smell is strong like my bat mitzvah tutor's perfume, but it gives my hair a little bit of weight, which is what it needs.
G/O Media may get a commission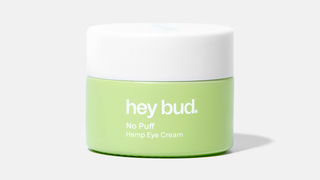 15% off
Hey Bud - No Puff Hemp Eye Cream
I'll also wash my face in the shower (even though I know Caroline Hirons says not to because of "particles" but I am not the King of England and cannot spare the time to perform two separate washes) with CosRX Low-pH Good Morning Cleanser, unless I'm feeling dry, in which case I'll use your standard CeraVe Hydrating Facial Cleanser. Also, it needs to be said that I was once vigorously opposed to bar soap, but have come around to it ever since my sister bought me a bar of binu binu Seshin Korean Scrub Soap, which is exfoliating but not at all drying and makes me feel fancy and clean—two things I like to feel. I used it until it was a nub that disappeared, and that, I believe, is the sign of a good product. I'll also shave with Eos Ultra Moisturizing Shave Cream if you care (I don't). When I get out, I rub the whole bod with CeraVe Moisturizing Cream (the tub kind) and pretend I am curing my skin to become a nice leather (this is very Buffalo Bill, I get it).
Here begins my face routine, which I'll do either before or after blow drying my bangs, depending on how daring I'm feeling. First, I'll tone. I used to use Pixi Skintreats Glow Tonic or Biologique Recherche Lotion P50, either of which is a very nice exfoliating toner, but stopped since I started a retinol, because I don't want to accidentally exfoliate my youth away so that I become just a skeleton face. (Now for some AHA/BHA action, I use Drunk Elephant's Sukari Babyfacial once a week because my sister gave me her leftover bottle. When it runs out, I will panique.) Instead, I've been using Aesop B & Tea Balancing Toner, which I got a bunch of samples of. I'm not sure if it's "doing anything," but it smells nice, is alcohol-free, has "antioxidants," and is fancy as sh*t—again, a winner for me. I follow that up with Skinceuticals C, E, Ferulic Serum and Hydrating B5 Gel (both gifts, I'm sorry!!!), and then a moisturizer/SPF. Recently, I've been using Dr. Jart's Cicapair Tiger Grass Color Correcting Treatment SPF 30, which goes on GREEN if you can even believe it, but eventually settles to a nice smoothing/brightening finish and kind of blurs away all my bits of redness. I also want to go on record saying that I like La Roche-Posay Toleriane Double Repair Moisturizer UV an awful lot.
Immediately when I am done I will do my hair. First, I'll use some Verb Ghost Prep primer (though for many years I've used Caviar CC Cream for Hair 10-in-1 which I also like), and then blow dry my bangs. I have a cowlick right where my bangs fall, so if I wait for them to dry even the tiniest bit, it is a lost cause—the bangs, they are ruined until I shower again. I will sometimes blow dry my full head of hair with a round brush if I have the patience. If I don't, it will air-dry and become wavy. These are the things my hair does (my hairs do?).

Then, I'll typically do several hours of blogging and blog-watching.
10:30 a.m.
I am, like many other Jezebel employees, a mid-day commuter, so I'll wait to do any makeup that I do until now. I feel the same way about makeup as I do about drinking alcohol which is: save it for when it counts. I don't love clogging my organs/pores with gunk unless I'm gonna get truly fucked up, so some days that I'm going to the office, I don't wear any makeup at all to let the pores relax in the nude. If I am wearing makeup, I'll probably just use a small amount of bronzer (I am essentially translucent)—usually Nars Laguna, though in February that's probably too dark for me, I get it. Then I'll use Revlon Colorstay Eyeliner Crayon in Black Brown, which my mom uses and I have been using since I was a teen, the Nars multiple stick in Maui which I smudge on my cheeks to give the impression that I am alive and healthy, and Maybelline The Colossal Volume Express mascara in Glam Brown. On my mouth, I'll use Kiehl's lip balm #1, or that multiple stick again, or Fenty Gloss Bomb Universal Lip Luminizer if I wanna be glossy, or Kat Von D's Everlasting Liquid Lipstick in Lolita II if I want a little more drama. I do not apply eye shadow because I do not know how.
8 p.m. (or whatever)
If I'm going out at night, I'll usually wash my face with a CeraVe or micellar water on cotton rounds to get all the daytime gunk off, and then put on Embryolisse Lait-Crème Concentré, a nice n' thick-but-not-heavy moisturizer that is a nice primer for other things to go on over it, mixed with a few drops of CoverFX Custom Enhancer Drops (I've tried Rose Gold and Sunlight and they're both great), and then I'll put on my makeup again, but, like, more of it? All of the time I've spent researching skincare is time I haven't spent learning how to apply makeup. My changes from daytime usually just involve substituting my usual for black liquid liner (I like Kat Von T Tattoo Liner), black mascara, and a different lipstick? One fave is Urban Decay Vice Lipstick in Carnal. I also get Sephora's Playbox (like a Birchbox set up where you get a few products a month) in an attempt to stop me from impulse purchasing new things, so I'll generally use whatever makeup thing comes in that, just to see.
12 a.m.
Before going to sleep, I take my makeup off with micellar water on a cotton round, or Ole Henriksen's 3-in-1 Melting Cleanser, then if I am feeling patient or bored I will double cleanse with the CosRX or CeraVe. Then I tone with the same stuff and put on Retin-A Micro .08 percent that a dermatologist prescribed me. I've been very dry this winter, especially around the eyes, which I attribute to the retinol, my dry apartment, and my flagging spirit, so after that I've been using Kiehl's Creamy Eye Treatment with Avocado, and either Kiehl's Ultra Facial Cream or Étude House Moistfull Collagen Cream, which Madeleine Davies let me borrow while she was on vacation and was so luxurious and non-pore-clogging that I will now purchase a very reasonably-priced tub-ette of my own.
Then, I lie perfectly still until my cat sits on my face once again.