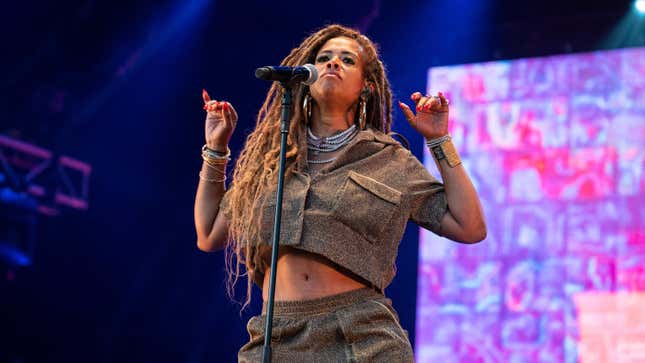 Listen up, Kelis has spoken, and whether her milkshake brought Bill Muray to the yard remains unclear.
Crush of the Week: Daniel Radcliffe's Weird Al
Last week, The Sun reported that Murray and Kelis had "met up in the States before," were now hanging out in London during her performances at a music festival, and had "clearly hit it off." But according to People, which poked around on Kelis' Instagram profile, the singer has a few edits for that story.
Over the weekend, Kelis, 43, posted a thirst trap in a bikini, partially submerged in aqua waters with a yacht in the background, as is her God-given right. There is not a 72-year-old Murray in sight, but that didn't stop a vast majority of commenters from asking the hard questions like "please explain bill murray," "Are you dating William Murray or not," and "Ma'am would you care to address these Bill Murray allegations?!? Cuz damn! What he doing with all that?!?"
"bill got u out here riding his wave," another wrote, adding, "media is destroying y'all lol."

"Lol yeah maybe for now," Kelis responded. "everyones dumb and will believe everything but the best part is we are both blessed, rich and happy. So who's really laughing…now that's funny."

While there's a part of me that takes voyeuristic pleasure in reading about a rumored celebrity couple that makes very little sense...this sounds like a denial to me. You don't sit around calling everyone "dumb" and saying they'll "believe everything" if you're about to turn around and hard launch a relationship with a dude old enough to be your father (especially one facing some concerning allegations).

At the same time, this cool-ass Grammy winner is right: She's "blessed, rich, and happy" while we're out here snooping through her Insta for clues about her rumored love life. Such fools we are!!! (I still have questions as to why Kelis would know that Murray remains "blessed, rich, and happy" in the first place. What could this situationship possibly be founded on other than mutual fame?)

Regardless of whatever boys (or very, very grown men) her milkshake is bringing to the yard, damn right, her yacht life is definitely better than ours.

---