The buzz about Wednesday's episode of Katie devoted to the HPV vaccine far surpassed any the show's gotten in the one-and-a-half seasons it's been on, but for anyone looking for real drama, the actual substance was as boringly frustrating as the debate that's existed online about the vaccine.
Before the episode aired, Seth Mnookin, author of The Panic Virus: The True Story Behind the Vaccine-Autism Controversy, wrote a post on his site claiming that he'd been approached by a producer on the show about appearing during this episode. This producer had told him originally that, "The goal of the hour will be to better inform the public that still questions links between vaccination and autism and need to better understand the scientific truth." Mnookin says he spoke to the producer "for a period of several hours" over a month, but the show decided not to have him on air. Still, before seeing a promo for the show, he was confident that the producers of the show and Couric herself "did not view this as an 'on the one hand, on the other hand' issue but one in which facts and evidence clearly lined up on one side — the side that overwhelmingly supports the importance and efficacy of vaccines."
But after seeing a promo for the show, Mnookin felt that Katie had clearly gone away from that educational angle. The promo language he cites and links to reads as follows:
The HPV vaccine is considered a life-saving cancer preventer … but is it a potentially deadly dose for girls? Meet a mom who claims her daughter died after getting the HPV vaccine, and hear all sides of the HPV vaccine controversy.
Perhaps the clip has been changed since Mnookin wrote his post, because now it reads:
Next Katie: the HPV vaccine controversy. It's considered a cancer preventer. But is it potentially dangerous for some girls? One mom who says her daughter died after being vaccinated.
G/O Media may get a commission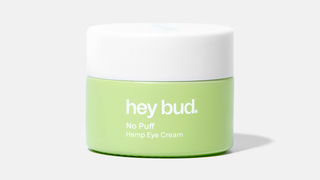 15% off
Hey Bud - No Puff Hemp Eye Cream
It's unsurprising that the show was being promoted in a sensational way, given the nature of daytime talk show promotional materials and the recent news that Couric's show was attempting to up the drama factor for ratings. Following Mnookin's post, Couric tweeted a link to a post on the Katie website called "Let's Talk!" that read:
What are your thoughts about the HPV vaccine and its surrounding controversy? Since we announced today's show, there has been a huge debate about the HPV vaccine on our site. I am not anti-vaccine… like millions of other parents, I had my daughters vaccinated. Some people say the risks may outweigh the benefits and there are claims that it could be dangerous, in a handful of cases even deadly. Nearly 80 million Americans have human papilloma virus and we want to keep our kids safe — but is the vaccine the way to go? We're asking that question in today's Big Conversation and I want to hear from you now. What are your thoughts about the HPV vaccine and the controversy surrounding it?
The actual episode ended up not being as fear-mongering as Mnookin had seemed to think it might be, but wasn't far from it. "We want to keep our kids safe, but is the vaccine the way to go?" Couric asked at the start of the episode, before profiling Emily Tarsell, a mother who claims her daughter died after getting the Gardasil vaccine and who has filed a pending federal claim against Merck, the manufacturers of the vaccine; Dr. Diane Harper, who worked on some of the studies that led to the vaccine's creation and believes it's overhyped; mother-daughter pair Rosemary and Lauren Mathis, who say Lauren has been ill since her vaccination; Dr. Mallika Marshall, who supports the vaccine and a final mother-daughter pair who are happy with their decision to get the vaccine.
Tarsell barely held back tears during her story, the Mathis' discussed the website they founded with supposed journalist Norma Erickson about the dangers of vaccines, Dr. Harper discussed how she thinks pap smears are a better way to go than the vaccine, Dr. Marshall talked about how the vaccine is safe, that other mother-daughter pair talked about how she had the vaccine and is fine...and then it was time to move on to ROSIE PEREZ!
In an attempt not to alienate her guests, Couric seemed determined to make it clear that both sides had their fair say, a problem that Mnookin tweeted "just validates impression that two sides should be considered equally." Couric ended the episode by saying, "So we've obviously heard two different sides about the HPV vaccine and I think for parents watching, it's probably still rather confusing when you hear these heartbreaking stories that these parents have endured," before asking her two doctor experts to give their opinions one more time. Their advice was, of course, do your research and make the decision that is best for you. She also prompted her viewers to "join the conversation" on her website. If you'd like to do that, there's a bunch of people who are pro-vaccinations and a bunch of people who are anti-vaccinations screaming at each other in the comments. How endlessly helpful.