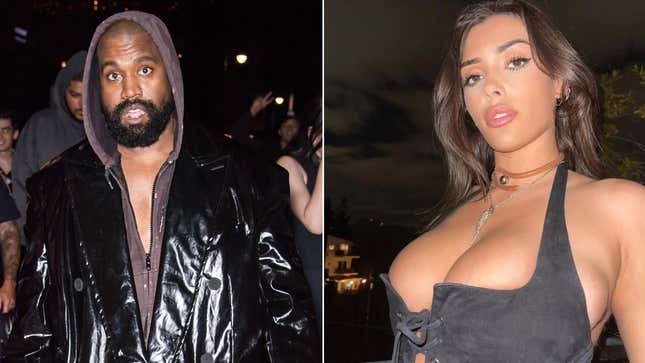 In the long weeks since spewing an endless, vile torrent of anti-Semitic conspiracy theories and proclaiming his love for Adolf Hitler, Kanye West's behavior appears as utterly erratic as ever. TMZ reports that on Thursday, West appears to have married his latest fling, a Yeezy designer and yet another Kim Kardashian lookalike named Bianca Censori. West and Censori reportedly exchanged wedding rings and said "I do" but filed no paperwork to make their vows legally binding.

Before the alleged wedding ceremony, West released a song called "Censori Overload" last month, though it made no explicit references to his new maybe-wife—save, perhaps, the line: "And The Bible said, 'I can't have any more sex til marriage.'" Censori's LinkedIn identifies her as the head of architecture at Yeezy, where she's worked since 2020 under West's employ. (Surely marrying an employee will help with all the recent, pesky little reports of workplace sexual harassment perpetrated by West.) Prior to her work at Yeezy, Censori, originally from Australia, studied architecture at the University of Melbourne.
Neither West nor Censori have confirmed the wedding nor posted about it on social media, as of Friday afternoon. Prior to TMZ's reporting, the two have only been seen out and about together on a couple of occasions. Yet, a source separately confirmed the nuptials to Us Weekly and said that the ceremony is "very real to them." By Friday afternoon, the Daily Mail reported the two are on their honeymoon in the beautiful state of Utah at a luxury resort in the Grand Circle of National Parks and Monuments. Fun!
Since West's split with Kardashian in 2021, he's dated a string of Instagram models seemingly built in Kardashian's image, with roughly the same surgically constructed facial features and body types.
Prior to allegedly semi-marrying Censori, West's most serious post-Kim "relationship" was with model Julia Fox over the course of roughly a month at the beginning of last year. But if you ever found yourself wondering about the many bizarre outfits Fox sported whilst in the thick of that relationship, or, for that matter, the apparent uniformity of all of West's girlfriends' appearances, Fox offered some illuminating insights on this last year: Before West even allowed her to be seen in public with him, she had to undergo a rigorous makeover and fashion coaching. In her own words, she was essentially put on the famed "Kanye workout plan," subject to an extensive bootcamp just to be photographed with the disgraced rapper.
Kardashian has yet to address the breaking news about her ex's alleged wedding, beyond a pretty indifferent Instagram story of her coffee mug Friday morning. In other words, if marrying an employee is all part of an elaborate scheme to make his ex jealous (something I wouldn't put past West), it doesn't seem to be working.
In a recent interview, Kardashian teared up about difficulties co-parenting her and West's four shared children amid his ongoing mental health struggles. Throughout much of last year, West incessantly harassed Kardashian online, publicly humiliating and pleading with her to take him back and prompting concern among domestic violence advocates that his actions amounted to stalking. Reports about the abuse West perpetrated at Yeezy claim that without Kardashian's consent, he shared her nude photos with employees.
All of this is to say, Ms. Censori—please blink twice if you need help.