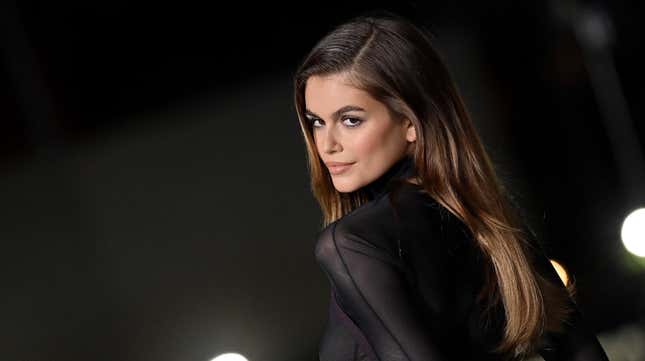 Last month, a "nepo baby"-themed New York Magazine series exposing (simply pointing out) dozens of famous people's privileged backgrounds reignited one of the most *annoying conversations in the industry (*because too many rich, connected people can't acknowledge that being born rich and well-connected can make a huge difference in one's career). The discourse quite literally had Jamie Lee Curtis talking about fellow nepotism beneficiaries as if they're mutants in the X-Men franchise.

Taylor Lautner Doesn't Even Remember Saying 'Bella! Where the Hell Have You Been Loca?'
But in her interview for the February cover of Elle this week, model Kaia Gerber—daughter and mini-me of legendary supermodel Cindy Crawford—showed it's actually not that hard to talk about being a nepo baby without prompting collective eye rolls. When Elle's Veronique Hyland asked Gerber about the broader conversation "about people having an easier time getting into the industry because of a family member" and whether "people sometimes make assumptions about how you got here," Gerber responded:
"I won't deny the privilege that I have. Even if it's just the fact that I have a really great source of information and someone to give me great advice, that alone I feel very fortunate for. My mom always joked, 'If I could call and book a Chanel campaign, it would be for me and not you.' But I also have met amazing people through my mom whom I now get to work with."
As Gerber pivots to take on acting, with a role in the forthcoming movie Bottoms, directed by Emma Seligman, she continued, "With acting, it's so different. No artist is going to sacrifice their vision for someone's kid. That just isn't how art is made, and what I'm interested in is art. Also, no one wants to work with someone who's annoying, and not easy to work with, and not kind."
"Yes, nepotism [in acting] is prevalent, but I think if it actually was what people make it out to be, we'd see even more of it," Gerber concluded.
In contrast to Curtis' or Lily Rose Depp's attempts to engage with the issue, I can truly appreciate a sweet and simple "I won't deny the privilege that I have" that just puts it out there and allows us all to move on. It really shouldn't be so hard to acknowledge your privilege and not spew a defensive and combative rant about how hard you work, when others without your wealth and connections work harder only to be denied similar opportunities.
In the same conversation with Elle, Gerber also talked about protecting her mental health in an exhausting, high-pressure industry and how she spends her time outside modeling—namely, leading her aggressively aesthetic Instagram Live book club and through comedy, which the 21-year-old seems to have very recently discovered despite a stint dating Saturday Night Live alum Pete Davidson in 2019 (she's now dating Oscar nominee Austin Butler, whose Elvis accent may be permanent). "To bring light to a situation and be able to find humor in it, that's why I love comedy. It helps me laugh about things that sometimes are really difficult and hard to laugh at," Gerber told the magazine of her new-found love of comedy clubs. "I go to comedy clubs all the time," she added.
And speaking on her online activism, including expressing support for abortion rights and protesting police violence, Gerber explained that she's learned "the most important thing is to understand" any given issue, rather than fall in the trap of spreading misinformation. "Do your research; know what you're speaking out about. Don't just repost, because the spread of misinformation is becoming a huge problem and can do more harm than good." True. Gold star.