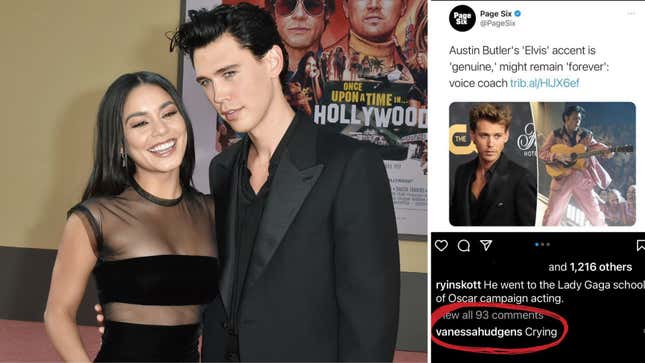 Yesterday, an influential voice chimed in on the debate regarding what the fuck is going on with Austin Butler's voice. The star of Elvis's accent coach, Irene Barlett, told ABC Gold Coast that the actor's voice is "genuine" and might remain that way "forever." This was met with a collective "sure, Jan."
And today, another and arguably more influential voice added to the cacophony: Vanessa Hudgens, Butler's ex-girlfriend, commented on a post about his voice: "Crying."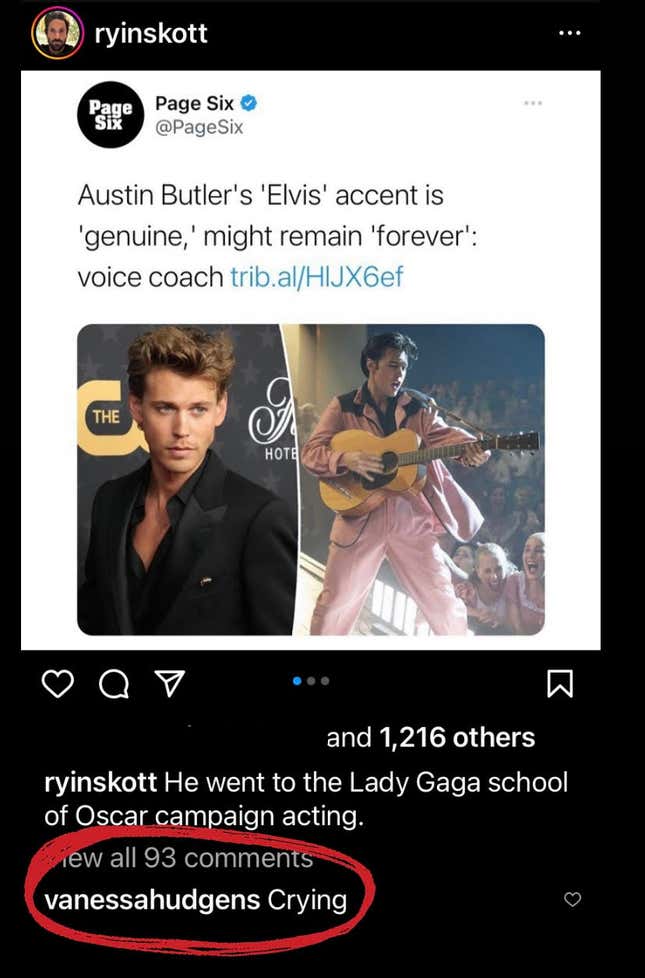 Instagram user Ryan Scott posted a screenshot of the Page Six story with the caption, "he went to the Lady Gaga school of Oscar campaign acting." Hudgens, who dated Butler for nearly a decade and surely has a pretty good idea of what he sounds like, confirmed what we all are thinking—the voice is bogus.
Fans have been rallying around Hudgens recently, following an interview Butler did where he referred to her as a "friend" who encouraged him to follow his dreams and play Elvis one day. But, unfortunately for Butler, Hudgens had told that exact story on Live With Kelly and Ryan while they were dating. Butler is participating in revisionist history of the worst kind! Cancel him!!
To be fair to Butler, which I have no real reason to do, his voice could have been forever altered after playing Elvis and this is now, indeed, his real voice. "I had three years where [the movie] was my only focus. So, I'm sure there's pieces of him in my DNA" he said in a post Golden Globes interview, where he'd just won Best Actor. I've never impersonated a famous person for three years, so who am I to say that your DNA can't be permanently altered in the process?! Who is science to even say? Seems like this is a mystery to be left up to Butler, Elvis, and G*d herself.
Ultimately, I'm glad Hudgens got in her comment on the whole matter, and hopefully she continues to laugh so hard that she cries. That's one of the healthiest ways to deal with an ex who's moved on with a 21-year-old.