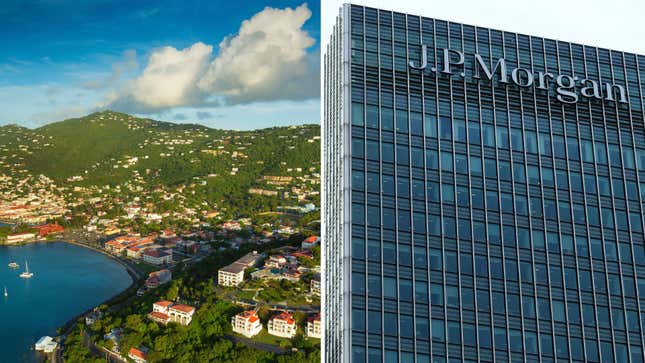 New and nauseating accusations have been made in the ongoing litigation between the U.S. Virgin Islands and J.P. Morgan over their respective relationships with Jeffrey Epstein. That's right; the battle royale between the mega bank and the sandbox for the obscenely wealthy continues and somehow has become more revolting.
In new court filings on Monday, the U.S. Virgin Islands—where the deceased sex-trafficker and pedophile maintained a residence—accused J.P. Morgan of turning a blind eye to Epstein's criminal activities in its 15-year relationship with him. Among the most eyebrow-raising inclusions in the Virgin Islands' documents were emails demonstrating just how close some executives were to Epstein. 
In one September 2012 email from a senior J.P. Morgan executive to Mary Erdoes, the bank's CEO for asset and wealth management, they compared a client's home to Epstein's: "Reminded me of JE's house, except it was more tasteful, and fewer nymphettes," the exec wrote. "More like the Frick [museum]. Art was fabulous." Apparently, "nymphettes" is rich ghoul code for underage girl. Who knew!
The claim is only the latest charge in a $190 million lawsuit filed last year by the Virgin Islands against J.P. Morgan. The suit alleged that an investigation showed the bank was "indispensable to the operation and concealment of the Epstein trafficking enterprise." In June, JP Morgan paid $290 million to survivors of Epstein, and called its relationship with him "a mistake" yet vehemently denied knowledge of his criminal activity: "We would never have continued to do business with him if we believed he was using our bank in any way to help commit heinous crimes."
Like any self-interested entity, J.P. Morgan has filed a countersuit of its own, alleging that the Virgin Islands was "complicit" in Epstein's criminal activity and has asked the judge not to grant the territory any monetary relief in the suit. The bank accused the Virgin Islands of facilitating visas that allowed Epstein to transport the women and girls he was trafficking and of "looking the other way" on occasions in which Epstein arrived at local airports accompanied by women and girls he was trafficking.
"For two decades, and for long after JPMC exited Epstein as a client, the entity that most directly failed to protect public safety and most actively facilitated and benefited from Epstein's continued criminal activity was the plaintiff in this case—the USVI government itself," the bank said in a court filing in May.
As Jezebel previously reported, that legal brief claimed that Cecile de Jongh, the first lady of the Virgin Islands from 2007 to 2015, actively aided Epstein in carrying out his sex trafficking ring within the territory. The filing included a series of email communications between de Jongh and Epstein, including messages from 2011—three years after Epstein pleaded guilty to soliciting prostitution of a minor—in which de Jongh appears to consult Epstein on proposed sex offender legislation in the Virgin Islands. The filing also shows de Jongh helped Epstein's victims get visas and English-language classes. Even worse, Epstein also paid her more than $100,000 a year for helming his business operations on the islands and aiding Epstein in maintaining working relationships with Virgin Islands law enforcement.
The Virgin Islands and J.P. Morgan are set to face off in Manhattan federal court on October 23.