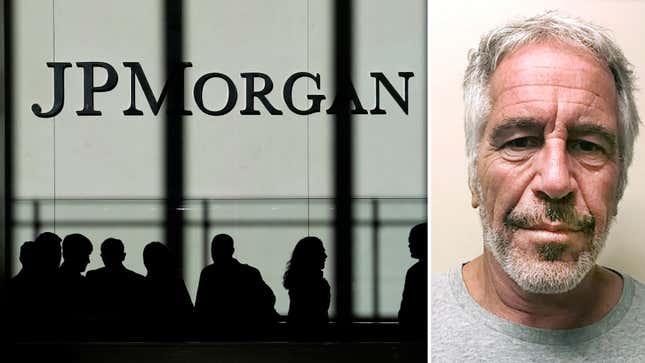 On Monday morning, JP Morgan Chase issued a press release stating that it planned to settle with scores of survivors of the deceased pedophile financier, Jeffrey Epstein, in response to a lawsuit claiming that the bank consciously benefitted from his international sex trafficking operation. How much was the nation's largest bank willing to part with? $290 million. However, JP Morgan Chase will not admit liability despite the hefty settlement.

"The parties...have reached an agreement in principle to settle the putative class action lawsuit related to Jeffrey Epstein's crimes, which is subject to court approval," the bank said in a statement. "The parties believe this settlement is in the best interests of all parties, especially the survivors who were the victims of Epstein's terrible abuse." A spokesperson for JP Morgan Chase did not immediately respond to Jezebel's request for comment.
The settlement was prompted by claims filed by an unnamed woman—identified only by the pseudonym, Jane Doe—that JP Morgan Chase not only knew of Epstein's sex trafficking operation, but continued a beneficiary relationship with him for 15 years. Doe, who alleges that she was raped and trafficked by Epstein, sued the bank on behalf of a "large number" of fellow survivors. The suit was filed in November 2022, and claimed the number of survivors could rise to over 100 women who allege Epstein abused them over the period in which he remained a client of JP Morgan's. The bank dropped him in 2013.
"We all now understand that Epstein's behavior was monstrous, and we believe this settlement is in the best interest of all parties, especially the survivors, who suffered unimaginable abuse at the hands of this man," the bank said in its statement. "Any association with him was a mistake and we regret it. We would never have continued to do business with him if we believed he was using our bank in any way to help commit heinous crimes."
Last month, the New York Times reported that an exhibit in a court filing suggested more than one bank employee filed a suspicious activity report about a number of Epstein's transactions.
Other documents revealed prominent executives at the bank maintained a relationship with Epstein, after his 2008 guilty plea in Florida to soliciting prostitution from an underage girl. Chief among them was James "Jes" Staley, who became the bank's CEO in 2009 and left in 2013. In one email exchange dated in 2011, Staley and Epstein discussed arranging dinner with Staley's family. Another, in 2015, showed Staley asked Epstein to speak with his daughter to discuss her post-college plans.
More disturbing are prosecutors' allegations that Staley and Epstein used coded language to discuss young girls. In emails obtained by the Daily Beast, Staley appears insistent on being provided with "white wine," in many instances at the brokerage of Epstein. Other messages between the two show cryptic references to "Disney princesses."
JP Morgan Chase has also filed suit against Staley.
Though the bank has tentatively agreed to settle this Jane Doe suit, a second related civil suit filed by the U.S. Virgin Islands still looms large. The Virgin Islands filed a suit against JP Morgan last year, claiming that an investigation showed the bank was "indispensable to the operation and concealment of the Epstein trafficking enterprise." JP Morgan Chase denied accountability and instead flipped the accusation, calling the Virgin Islands "complicit" in Epstein's criminal activity.
"For two decades, and for long after JPMC exited Epstein as a client, the entity that most directly failed to protect public safety and most actively facilitated and benefited from Epstein's continued criminal activity was the plaintiff in this case — the USVI government itself," the bank said in a court filing.
In other court filings, emails dating back to 2008—including some to Staley—show JP Morgan Chase employees and the bank's general counsel pushing to drop Epstein. One said: "This is not an honorable person in any way. He should not be a client.