A journalist is being charged with criminal trespass and "engaging in a riot" while covering the latest arrests near the Standing Rock reservation in North Dakota. Jenni Monet, 40, told the Los Angeles Times she clearly identified herself as a journalist and was still arrested, then held with other women arrestees for around seven hours in a metal cage in a parking lot at the Morton County jail.
A group of about 76 water protectors were arrested at Standing Rock, after Morton County police raided a new protest camp, dubbed Last Child. (The water protectors say the camp was set up on Sioux treaty land; Morton County authorities have claimed it was on private property.) 
Monet told the Los Angeles Times she was covering the latest confrontation on assignment for Indian Country Today and the Center for Investigative Reporting when she was swept up in the raid:
Police "asked me to leave," and she attempted to do so, Monet said in an interview Friday. "I was walking away, I was halfway down the hill, and they still arrested me," she said.

She added that she had been observing the protesters from a distance, "clearly removed from the arrests," and had already identified herself as a journalist on assignment. As the arresting officer fumbled with the zip ties on Monet's hands, she recalls telling him, "Well, you could just not arrest me, because I'm a journalist."
The arresting officer did not read Monet her Miranda rights, she said. She was loaded onto a school bus and held for seven hours with other women, "stripped down to our long johns," in metal cages in a Morton County jail parking garage. Late Wednesday evening, Monet was transferred to an indoor cell with five other women.
(Morton County has acknowledged the use of metal cages to hold arrested demonstrators. The arrestees have likened them to dog kennels.)
In an essay for Indian Country Today on February 3, Monet, who is a member of the Laguna Pueblo tribe, wrote that she hoped her charges will be dropped, "not only for my own well-being but also for the integrity of North Dakota." (In October, as she pointed out, a judge declined to sign off on identical riot charges against Democracy Now! host Amy Goodman.)
G/O Media may get a commission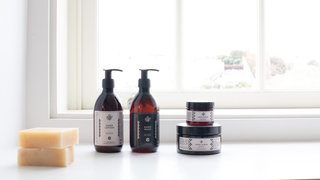 Exfoliate and Hydrate
The Handmade Soap Company
Monet's arrest comes after Donald Trump signed an executive order paving the way for Dakota Access to legally complete their pipeline, and after the Bureau of Indian Affairs announced plans to deploy agents to physically remove remaining demonstrators from the land. BIA agents reportedly visited Sacred Stone Camp, which is on private property, for an "assessment," and announced imminent plans to remove anyone who couldn't prove longterm residency in Cannonball, North Dakota.