Well, shit. On Tuesday night, the Army Corps of Engineers was ordered by acting Secretary of the Army to proceed with the easement necessary to complete construction of the hotly contested Dakota Access pipeline construction.

The Associated Press reports that the order came via a statement from Senator Jon Hoeven, who met with Vice President Mike Pence and Acting Secretary of the Army Robert Speer. "Building new energy infrastructure with the latest safeguards and technology is the safest and most environmentally sound way to move energy from where it is produced to where people need it," the statement read, before noting that "additional federal law enforcement resources" will be coming to help enforce the decision.
In December, Assistant Army Secretary for Civil Works Jo-Ellen Darcy decided not to issue the easement, delaying plans to discuss the pipeline with the Standing Rock Sioux Tribe, members of which have been camped out on the land for months in protest of the pipeline, despite the brutal weather. The hold on construction was meant to allow for further discussion of the environmental impact of the pipeline, which would cross under Lake Oahe, the tribe's main source of water. A study was set to take place that would thoroughly investigate the impact, in a huge win for Standing Rock, environmentalists and people who give a shit about the earth and what we're doing with it. Two days into his presidency, Donald Trump signed an executive order that advanced the construction of the Dakota Access pipeline as well as the Keystone XL, effectively erasing the work of his predecessor.
Politico reports that the Standing Rock Sioux Tribe is vowing legal action against this decision, arguing that it's illegal and dangerous for the Army Corps to approve the easement without conducting the review. In a statement, the Tribe notes that technically, the Army Corps doesn't have the legal right to issue the easement and complete the project, saying that "The Corps must review the Presidential Memorandum, notify Congress, and actually grant the easement."
They continue:
"To abandon the [review] would amount to a wholly unexplained and arbitrary change based on the President's personal views and, potentially, personal investments. We stand ready to fight this battle against corporate interest superseding government procedure and the health and well-being of millions of Americans."
G/O Media may get a commission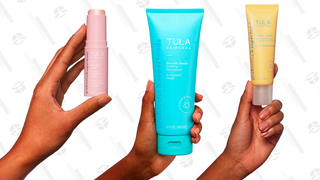 "Corporate interest superseding government procedure" is a fairly accurate description of The Way We Live Now. Let's remain hopeful that this somehow works out.