The federal government increased pressure on the few protesters remaining on Standing Rock Sioux reservation land to clear out by announcing, on Friday, its intention to dispatch Bureau of Indian Affairs agents to remove protesters from the site, the Washington Post reports. These protesters oppose the $3.7 billion dollar Dakota Access oil pipeline that's been slated anew to snake through lands sacred to Standing Rock's native inhabitants, likely destroying the tribe's main water supply in the process.
The Bureau of Indian Affairs' incredibly slippery stated mission, according to its own website, is to, "enhance the quality of life, to promote economic opportunity, and to carry out the responsibility to protect and improve the trust assets of American Indians, Indian tribes, and Alaska Natives."

Acting Secretary of the Army Robert Speer ordered the Army Corps of Engineers to proceed with building the pipeline on Tuesday, just a week after collapsed day-glo tent Donald Trump signed an executive action ordering the Corps to reappraise the decision it made on December 4 to enact a temporary ban on construction.
On Wednesday, more than 40 protesters remaining on land near the Dakota Access pipeline were notified by the Morton County Police force that they were trespassing and had to move. ABC News reported that, according to a 19th century treaty, the protesters' encampment was technically located on private property. Local police forces reportedly evicted the straggling protesters, and arrested 20 individuals who did not obey the order to disperse.
G/O Media may get a commission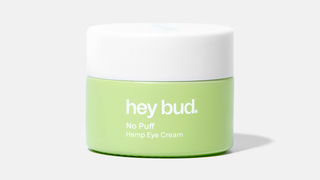 15% off
Hey Bud - No Puff Hemp Eye Cream
Corps officials and the Indian Affairs Office are both, incredibly, justifying the removal of protesters on environmental protection grounds. According to the Washington Post, Corps officials are arguing that, "extended protests have contributed to soil erosion and could make any potential spring flooding worse."
The acting assistant secretary of Indian Affairs, Michael Black, said in a statement that, "The closing of the camps is a matter of public health and safety, and working together at this time will allow for the safe removal of waste and debris that will impact the local environment and protection of those camps."
North Dakota senator John Hoeven—an adamant supporter of the pipeline who was just last month appointed head of the Senate Committee on Indian Affairs—warned of the Bureau's impending involvement on Tuesday, announcing he was trying to obtain additional federal law-enforcement resources in order to bulk up security at the protesters' campsite.