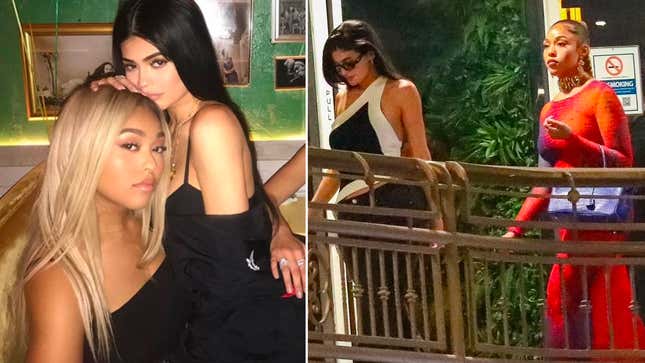 In what some are calling "the Treaty of Versailles if it served," Kylie Jenner and Jordyn Woods—former besties who vanished from each other's lives after an alleged cheating incident involving Woods and Khloe Kardashian's then-partner, Tristan Thompson, in 2019—reunited for dinner on Saturday night.

The reportedly reconciliatory dinner took place well over four years after Jenner and Woods, once inseparable, first became estranged after the KarJenner clan learned that Thompson and Woods had gotten cozy at a party. People reports that Woods reached out to apologize to Jenner "for how everything went down and let her know that she loves her" ahead of the weekend outing, per a source.
Some background, since 2019 was a whole-ass pandemic and election cycle ago: There are varying accounts of what, exactly, went down between Thompson and Woods at the party in question. On Red Table Talk, Woods claimed all that happened between her and Thompson was a dry little kiss as she left the party. "Never once was I giving him a lap dance, making out with him, sitting all over him," Woods insisted, contradicting what tabloids were reporting at the time. She continued, "Never once did we leave the public area [and] go to a bedroom [or] a bathroom." As she left the party, she said Thompson came and kissed her, but there was "no passion, no nothing, he just kissed me… No tongue… no making out."
In the immediate aftermath of the incident, Khloe and her sisters led something of a smear campaign against Woods, who was just 21 at the time. "Why are you lying @jordynwoods ?? If you're going to try and save yourself by going public, INSTEAD OF CALLING ME PRIVATELY TO APOLOGIZE FIRST, at least be HONEST about your story. BTW, You ARE the reason my family broke up!" Khloe tweeted after Woods' interview. Of course, as many pointed out in response to Khloe's tweet, she seemed to sweepingly blame Woods for her partner's actions.
After all, not long after this cheating incident—one of many very public cheating scandals on Thompson's part—Khloe and Thompson reunited. Even after the alleged incident with Woods, Thompson remained close to the KarJenner clan; nothing really changed for him, while Woods was cast away, smeared, and estranged from her childhood best friend. Of course, we'll never really know what exactly happened between Woods and Thompson, or between Woods and her ex-best friend's family. But from a casual onlooker's perspective, much of it came off as misogynoir and unnecessary public bullying/shaming of a 21-year-old woman.
To that end, if Woods felt the need to apologize to Jenner all these years later, good for her, I guess. All I'm saying is there's a case to be made that Woods is owed an apology, too?