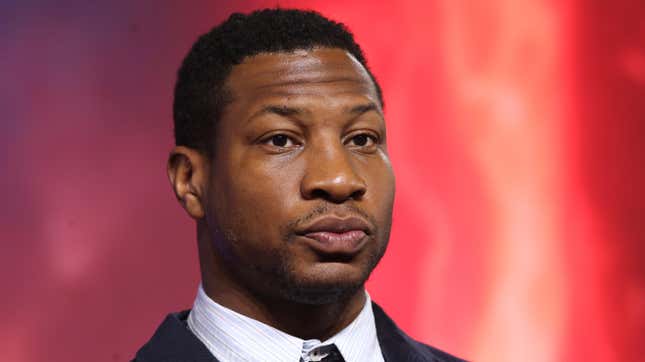 Jonathan Majors physically and emotionally abused two unnamed romantic partners prior to the current domestic violence charge he now faces in New York, more than a dozen sources told Rolling Stone as part of its months-long investigation into the Marvel star's conduct.

Politician Cites the Constitution to Eviscerate Gun Supporters
In March, Majors was arrested on charges of strangulation, assault, and harassment, and the woman he allegedly harmed currently has a protective order against him. As his legal team maintains his innocence, and aggressively contends that it's Majors' ex-girlfriend who assaulted him, Rolling Stone reported similar allegations about the actor's conduct in his previous relationships. Nine sources in close proximity to Majors and his ex-partners at the time of their relationships told the outlet that he once strangled one of the women after a fight between them escalated, and subjected the other to "emotional torture" and threatening, controlling behavior.
Of Majors' relationship that allegedly became physically abusive, RS reports:
At first, the sources say, Majors was romantic with the woman before becoming more manipulative and volatile. The situation became "really extreme abuse, physically and mentally," one source claims, and allegedly escalated to the point of "him strangling her." Two sources claim she tried to leave multiple times and had an exit plan at one point, but remained in the relationship.
In April, Variety reported that "multiple" more victims were accusing Majors of harm and cooperating with the Manhattan district attorney's office in its case against him.
The two unnamed women described in RS's report both declined to comment for it, though one of the women, through a spokesperson, cited fear of retribution. A lawyer for Majors denied all of the allegations laid out in the report, and shared six supportive character witness statements from other women Majors previously dated or shared close relationships with.
When the magazine contacted the six women who supposedly authored the statements, three "never gave Majors' team permission to release such statements," and another characterized the statement attributed to her as "pre-written" and "not truthful." One didn't respond, and only one woman, who dated Majors when they were teens, had consented to the supportive statement attributed to her.
The report also cites a pattern of alleged toxic, threatening, and violent behavior on Majors' part, according to people he worked with on film and drama department sets, including multiple altercations or interactions that made colleagues and crew members cry or feel unsafe. "A lot of people felt in physical danger around him and certainly in mentally precarious positions because of him," a former Yale drama classmate said of Majors, who enrolled in the three-year program in 2013. After multiple alleged altercations between Majors and other students, the administration emailed a "reminder about rehearsal etiquette and violence," former classmates said.
Hours before Rolling Stone's report went live on Thursday night, the New York Times reported that three sources claimed the New York Police Department had evidence to arrest the woman who accused Majors of attacking her in March. Earlier this week, Majors filed his own domestic violence claim against the woman, characterizing her as "drunk and hysterical." The Times says its sources claim police have issued an I-card, which is slightly different from an arrest warrant but indicates probable cause to arrest someone.
A spokesperson for the NYPD declined to confirm or deny this beyond clarifying that no additional arrests have been made. A lawyer for the woman Majors allegedly attacked told the Times that "the criminal case against Mr. Majors is proceeding as expected," and, "Out of respect for the criminal process and the prosecuting attorneys who will make decisions based on the evidence, we do not intend to respond to rumors."
It's not uncommon for people who are accused of abuse to make counter-complaints claiming that the person accusing them was actually abusive. These claims are sometimes successful: One report found a quarter of women who call the police to report domestic or intimate partner violence are themselves arrested or threatened with arrest.
A judge determined at a hearing last week that Majors' case will go to trial in August.