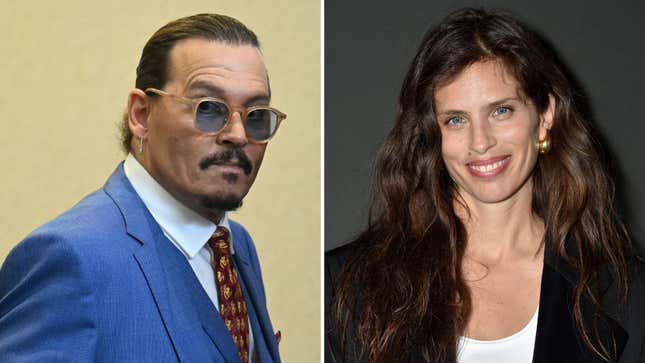 The apparently not-so-canceled Johnny Depp is officially set to open Cannes Film Festival next month with his new film Jeanne du Barry, under the direction of French actress and director Maïwenn Le Besco, per the Daily Beast on Thursday. The movie will follow the titular Jeanne du Barry as King Louis XV's "favorite" mistress, pairing Maïwenn as du Barry opposite Depp's Louis XV.

The Johnny Depp and Amber Heard Defamation Trial Has Begun
But the road to Depp's first feature film role in three years apparently wasn't a smooth one, per one French actor dishing on a talk show at the end of last year. "I've heard some noise from the shoot, very serious stuff," the actor, Bernard Montiel, said. Montiel claimed Depp and Maïwenn especially clashed over his unprofessionalism: "So, [Depp is] an excellent actor, when he comes on set, except sometimes at six in the morning the crew is ready, and nobody turns up. So of course, Maïwenn, who is the director, gets angry, and the next day she's the one who doesn't turn up. And you've got Johnny Depp, and she's not there."
He concluded: "It's finished, over this week, [but] it's going very, very badly. They don't get on at all; they're screaming at each other the whole time."
Depp's role in the movie was announced in January 2022, months before his highly public defamation trial against Amber Heard for accusing him of domestic violence. At around the same time Depp took on the role, he'd just lost his libel case in the U.K. against the publisher of the Sun over a headline that had referred to him as a wife-beater, as a judge ruled that he was indeed an abuser.
Many of Depp's notoriously online fans have blamed his declining career for years on the supposed impact of Heard's allegations of domestic violence, which first emerged in 2016. But notably, Hollywood insiders have long had words on Depp's lack of professionalism—particularly his reputation for tardiness and disrespecting others on set. The former Pirates of the Caribbean front-man was sued in 2018 for punching a crew member on set of City of Lies whilst drunk, a case Depp only settled last year.
So, I'm not exactly surprised that Jeanne du Barry, the movie that's poised to be his big comeback since winning his defamation suit against Heard, was marred by the actor's typical bullshit and fairly predictable inability to respect his female director.
Mind you, Depp is not canceled, nor has he ever been, really. Even after domestic violence allegations against him first surfaced, he continued to get roles—for example, the one in the aforementioned movie in which he punched a crew member—and received high honors at a major Spanish film festival in 2021. Throughout his defamation trial against Heard last summer, his legal team weaponized anti-MeToo backlash and broad societal disdain for women who accuse famous men of misconduct to frame Heard as the abuser and Depp as her victim. The spectacle of the trial hurled Depp back into cultural relevance, stardom, and public adoration, and in its aftermath, he's sold mediocre paintings for millions and went on tour with his band in the U.K. And now he's opening the Cannes Film Festival next month.
My heart goes out to the director who had to put up with him.