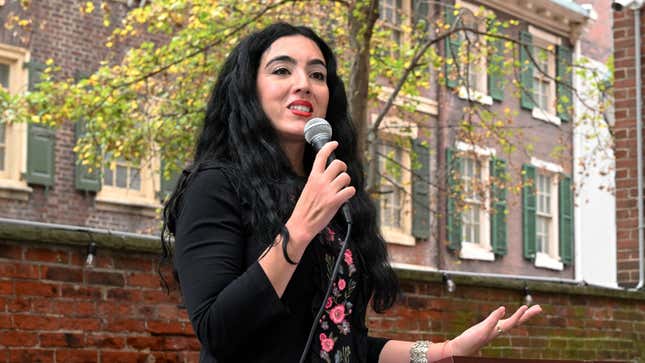 Since Sen. John Fetterman (D-Penn.) checked into Walter Reed Hospital for treatment for clinical depression in February, the senator has faced an onslaught of attacks and conspiracy theories from right-wing critics. But many of the attacks have also been aimed at his wife, Gisele Barreto Fetterman, who has become one of Fox News' favorite scapegoats and targets.

In an essay for Elle, published Wednesday, Fetterman wrote that the attacks she faced escalated shortly after she took her kids to Niagara Falls amid John's hospitalization:
"I was surprised to find that this time the vast majority of the harassment wasn't directed toward John—but at me. On social media, people accused me of kidnapping the kids and running away to Canada. They promoted conspiracy theories claiming I was an ambitious, power hungry wife, secretly plotting to fill his Senate seat."
Even before her husband's hospitalization, Fetterman has been characterized as "power-hungry" for her supportive role in John's campaign—even though she's stayed fairly busy with her own work in community-based nonprofits and volunteer fire-fighting.
Through all of the attacks she's faced, Fetterman wrote that she's been told to simply "grow a thicker skin." But the constant, often very personal harassment has taken a toll, she said, and telling women like her to be strong isn't a solution to aggressive sexist harassment. "When we demand that women steel themselves in the face of unending attacks, we teach the next generation to normalize and accept harassment," Fetterman wrote. "In the end, it only puts the blame on women once again; telling us to toughen up or ignore it reasserts the idea that we need to accept when we're treated poorly, instead of questioning why society permits abusive behavior." She continued, "It makes us feel like we're the problem for feeling pain when we're held over a live fire."
Praise for "strong" women and advice to public-facing women to simply rise above misogyny and abuse are often well-meaning. But Gisele's writing speaks to a problem with this language that often goes unexamined: that we shouldn't have to be this strong. Why should we collectively put the onus on women and girls to be stronger, rather than on our society to dial back its misogyny?
Gisele has certainly been the subject of intense public misogyny—more so than a lot of the wives of political figures in recent memory. Nonetheless, she found the courage to write about her experiences, and hopefully, it prompts more people to question all that we ask of women in exchange for a mere pat on the back for being "strong."
"When our family first started getting national attention, a lot of people told me... I should toughen up. Well, I don't want a thicker skin," Fetterman wrote. Ultimately, Fetterman concluded that she shouldn't have to change herself in the face of public scrutiny: "I like my big feelings; the ability to feel so deeply is beautiful. My empathy drives my career and provides me with purpose and hope."