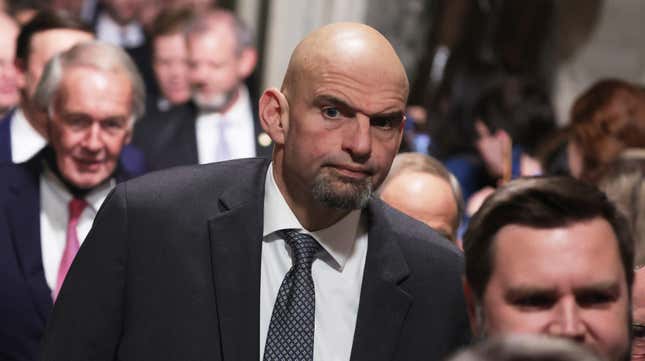 Freshman Sen. John Fetterman (D-Pa.) checked himself into a hospital on Monday to get treatment for clinical depression that has become severe, according to his staff. Fetterman had a stroke in May 2022 and then went on to win his election against Mehmet Oz, flipping a Senate seat despite Fox News and the media in general having an ableist meltdown over his recovery.
America's Favorite Pasttime: Dunking On Dr. Oz
The full statement from Fetterman's chief of staff, Adam Jentleson, reads:
"Last night, Senator John Fetterman checked himself into Walter Reed National Military Medical Center to receive treatment for clinical depression. While John has experienced depression off and on throughout his life, it only became severe in recent weeks.

On Monday, John was evaluated by Dr. Brian P. Monahan, the Attending Physician of the United States Congress. Yesterday, Dr. Monahan recommended inpatient care at Walter Reed. John agreed, and he is receiving treatment on a voluntary basis.

After examining John, the doctors at Walter Reed told us that John is getting the care he needs, and will soon be back to himself."
Fetterman was briefly hospitalized last week after feeling lightheaded and doctors ruled out a second stroke. His wife, Gisele, said on Twitter, "After what he's been through in the past year, there's probably no one who wanted to talk about his own health less than John. I'm so proud of him for asking for help and getting the care he needs." She added: "This is a difficult time for our family, so please respect our privacy. For us, the kids come first. Take care of yourselves. Hold your loved ones close, you are not alone."
In a New York Times story published last week on Fetterman's recovery, Sen. Ben Ray Luján (D-N.M.) talked about his own stroke recovery and said mental recovery can be as difficult as the physical aspects. "I was very blessed there was a lot of love and humanity around me," he said. "I can't imagine what my recovery would have been like if I had people saying horrible, disrespectful, uneducated, hateful things. It's tough."
The story also noted that Fetterman lives alone in a Washington, D.C., apartment during the week, then drives four hours to Braddock, Pennsylvania, most weekends to see his wife and three kids.
To state the obvious, it's pretty brave for Fetterman to acknowledge this particular struggle publicly and seek treatment. It's extremely rare, if not unprecedented, for a sitting senator to acknowledge their mental health issues, as Politico reporter Sam Stein noted.
Get well soon, senator, we are rooting for your recovery.