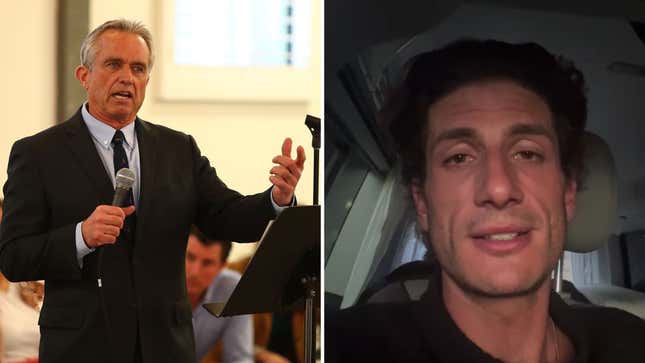 We already knew Jack Schlossberg, former President John F. Kennedy's only grandson, hates restaurants, thanks to a viral rant he posted earlier this month about the displeasures of eating dining out. And now, via a new Instagram rant filmed in the front seat of a car, our favorite unserious descendant of political royalty has made clear that he also very much hates his cousin, Democratic presidential candidate Robert F. Kennedy, Jr., and thinks you should absolutely not vote for him under any circumstances.
GOP Congressman Spent His Sunday Daring Biden to 'Come and Get' His Guns
In the wee hours of Friday morning, Schlossberg took a few minutes from his busy schedule of paddle-boarding and not patronizing restaurants to condemn his vaccine science-distorting relative and endorse Joe Biden for reelection. "Hi, I'm Jack Schlossberg and I have something to say," he begins in the video, before naming a number of Biden's achievements: "He's appointed more federal judges than any president since my grandfather. He ended our longest war. He ended the COVID pandemic. And he ended Donald Trump."
Frankly, it's giving paint-by-numbers well-meaning lib political endorsement made by a celebrity, brought to you by MoveOn...until Schlossberg starts shitting on his cousin (much like RFK Jr.'s sister already did)."These are the issues [ending Donald Trump, I guess] that matter, and if my cousin, Bobby Kennedy Jr., cared about any of them, he would support Joe Biden too," Schlossberg said. "Instead, he's trading in on Camelot, celebrity, conspiracy theories and conflict for personal gain and fame. I've listened to him. I know him. I have no idea why anyone thinks he should be president. What I do know is his candidacy is an embarrassment."
"Let's not be distracted again, by somebody's vanity project," Schlossberg added.
I think it's safe to say that holidays at the Kennedy compounds are going to be a little more awkward this year, not that they haven't always been. Meanwhile, the comments on Schlossberg's post are, naturally, very bleak.
"Your grandfather would be appalled at what this president has done to America," vented one account. "Are you being paid for this endorsement, because I cannot imagine any other reason you would do this."
"So Jack, what are your thoughts on child trafficking and organ harvesting?" asked another. "If we're going to talk about all the things Biden has done for our country, it's strange that you'd leave that out." Yeah, man. Fuck you for failing to mention organ harvesting...
While I did not agree with Schlossberg's previous diatribe about dining out, I'm on board with dragging his blood relative to hell. Not only is it profoundly deserved given RFK Jr.'s record of Holocaust denial, casual anti-Semitism, storied anti-vaccine activism, and fart-laden fundraisers—it's also the way of any respectable dynasty in America.