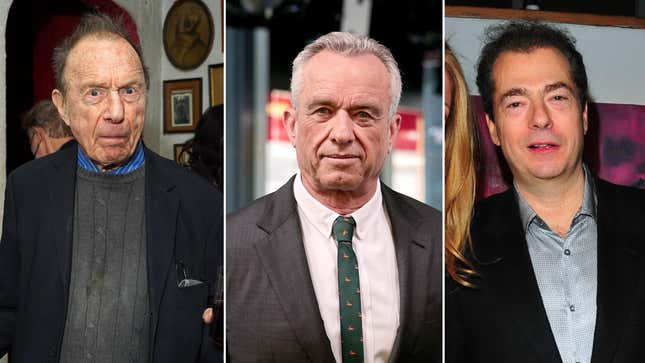 The 2024 presidential campaign trail has officially kicked off, not with a bang but with a…fart. And a very prolonged fart, apparently: The Steve Bannon-endorsed, allegedly Democratic presidential candidate Robert F. Kennedy attended a gala of his ultra-rich supporters in Manhattan's Upper East Side on Wednesday night, which, according to Page Six, quickly transformed into a heated, pungent debate about the veracity of climate change. The debate culminated in the event's host unabashedly letting one rip. Look, I don't wish I'd been there, but it certainly sounds like something I'd have to see—or perhaps smell—to believe.

According to the outlet, the gaseous confrontation began in earnest when a guest at the dinner asked Kennedy a question about the environment, prompting the gala's host, former gossip columnist Doug Dechert, to instigate a shouting match over what he called "the climate hoax." The guest who'd asked about the environment was Anthony Haden-Guest, identified by HuffPost as an art critic "who recently hosted his own funeral," if that gives you any sense of what wavelength the attendees were on.
As Haden-Guest responded to Dechert's climate denial by calling him a "miserable blob," and added that he was "fucking insane" and "insignificant," Dechert continued to yell "the climate hoax!"—until it seems, he realized this epithet was taking him nowhere and he switched tactics. "I'm farting!" Dechert then reportedly proclaimed, letting out what Page Six characterized as a "loud, prolonged fart." (Oh, the irony of a climate denier releasing that much methane into the atmosphere!) That's certainly one way to shut down an argument—I can give him points for comedic timing and creativity, but none for maturity.
The crowd, Page Six notes, appeared "unsure about whether Dechert was farting at Haden-Guest personally or at the very notion of global warming."
Apparently, throughout all of this, the man of the hour—RFK Jr.—sat by and "watched calmly" and "maintained a steady composure." It's not immediately clear how the anti-vax, anti-common sense presidential candidate reacted to Dechert's fart specifically. Of all the tidbits of knowledge about the late former president's nephew that have been forced upon me without my consent, this—what was going through his head as Dechert passed gas—is truly the only thing I've ever wanted to know about him.
I will say, undeniably, childishly comical as all of this may be, it's definitely jarring that a man as unserious as RFK Jr.—who'd opt to have a campaign event hosted by a farting climate conspiracy theorist in the first place—is being taken somewhat seriously. A poll from last month showed the candidate with 15% support and 21% favorability among Democratic primary voters. He's also endorsed by Twitter founder Jack Dorsey and has received glowing words of support from Elon Musk.
Asked about the fart by Page Six, Dechert said, "I apologize for using my flatulence as a medium of public commentary in your presence"—which doesn't sound particularly sincere—and insisted that he maintains a "zero tolerance for the climate hoax scam nonsense in any venue that I am personally funding."
Dechert's insistence that climate change is a "hoax" is especially ironic while a third of the country is under warning for severe heat. But if farting is his go-to rhetorical tool for debates, remind me not to bring this up to him.