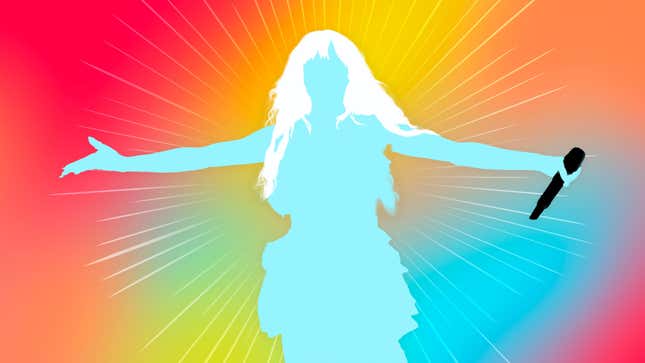 Well, we did it. We prepared posts with polls that pitted a diminishing amount of songs from Billboard's mega-list of the Top 10 songs of each summer (starting in 1990) against each other, and you voted and here we are, at last with a winner. Without further ado, we can tell you that in the ultimate battle of fast & happy vs. slow & sad, fast & happy has won out as Carly Rae Jepsen's "Call Me Maybe" reigned over Roxette's "It Must Have Been Love." The final vote breakdown found "Call Me Maybe" nabbing nearly 58 percent of the votes (291 in total) to the 42 or so percent held by "It Must Have Been Love" (212 votes). Again, that's really not bad for a 33-year-old song that didn't exactly scream summer (instead, the whisper laid on its pillow was more yuletide in nature, as "It Must Have Been Love" was originally released as a Christmas song).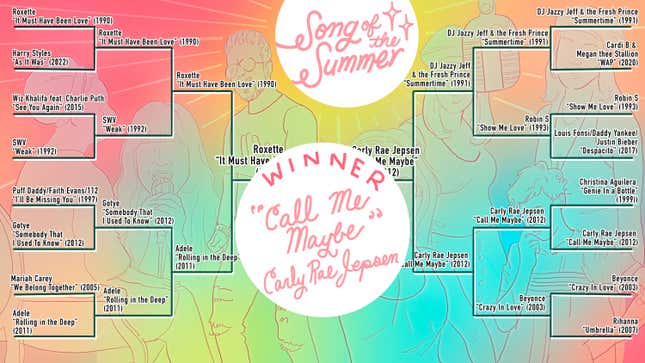 But "Call Me Maybe," a viral hit in the purest sense of the phrase, took it all, having previously beat the likes of DJ Jazzy Jeff & the Fresh Prince's "Summertime," Beyoncé's "Crazy in Love," and its first-round rival "Genie in a Bottle" by Christina Aguilera. Jepsen's 2012 single remains her biggest, having spent nine weeks at No. 1 on the Billboard Hot 100. And now, another notch on its bedpost. What a proud moment for all.

What are the lessons to extract from our little experiment? Maybe it's as simple as: The sounds people prefer to represent their summer are peppy, synthy, and sweet. Or maybe it's just that "Call Me Maybe" is such undeniable ear candy that nothing else really stood a chance, regardless of tone or genre. If any song from our original 16 contenders exemplifies that sugar rush of summer, surely it's "Maybe," a worthy champion.