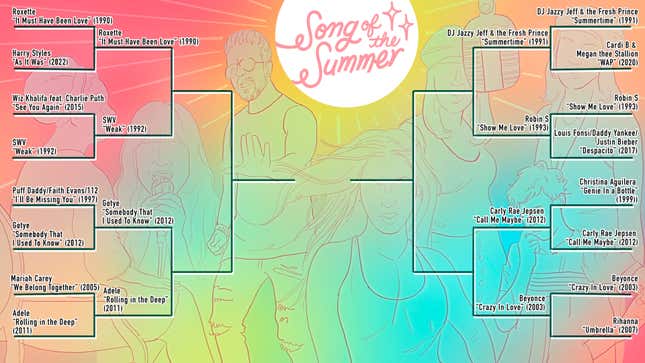 Welcome back to round two of Jezebel's Song of the Summer Tournament, where we looked at Billboard's mega-list of the Top 10 most popular songs in the U.S. for every summer from 1990 to 2022, narrowed it down to 16, then you voted it down to eight.

Tough choices led to some shocking departures. Cardi B and Megan Thee Stallion's "WAP" is gone. (We're saying this flatly to ourselves while staring into space.) Mariah Carey's "We Belong Together" (which at least one of the writers of this post thought would go all the way) has been bested by Adele's "Rolling in the Deep." "Despacito," one of the longest-running No. 1 singles of all time, has been yeeted in favor of Robin S.'s perennial people-mover "Show Me Love." We will not be seeing Wiz Khalifa and Charlie Puth's "See You Again" (SWV's "Weak" reigned over it); whether we will be missing Puff Daddy and Faith Evans' "I'll Be Missing You" is a more subjective question, but it's gone too after losing out to Gotye's "Somebody That I Used To Know."
Eight songs remain—two sad & slow songs from the '90s (Roxette's "It Must Have Been Love" vs. SWV's "Weak") face off, as do two happy & fast ones from that decade ("Show Me Love" vs. DJ Jazzy Jeff & the Fresh Prince's "Summertime"). It's a mid-'10s showdown for our other sad & slow matchup ("Rolling in the Deep" vs. "Somebody That I Used to Know"), and Beyoncé and Carly Rae Jepsen battle in our other fast & happy round.
Next week, we'll set the winners of this week against each other in our quest to determine, once and for all, if the Ultimate Song of the Summer is fast&happy or slow&sad. Happy voting.