Welcome back to round three of Jezebel's Song of the Summer Tournament, where we looked at Billboard's mega-list of the Top 10 most popular songs in the U.S. for every summer from 1990 to 2022, narrowed it down to 16, then you voted it down to eight. And then you did it again, and together we've reached our final four. This third round is a semifinal round, which pits the last two slow & sad songs and the last two happy & fast songs against each other.
Extremely tight votes produced our Top 4. Now Gotye is just somebody that we used to know, as Adele's "Rolling in the Deep" edged out his "Somebody That I Used To Know" 532 to 451. In an even tighter race, Carly Rae Jepsen's "Call Me Maybe" triumphed over Beyoncé's "Crazy in Love" by just 14 votes (507 to 493). Tighter still, DJ Jazzy Jeff & the Fresh Prince's "Summertime" bested Robin S's "Show Me Love" by a measly eight votes (501 to 493). Maybe most surprising was the manner in which Roxette's "It Must Have Been Love" absolutely annihilated SWV's "Weak," trouncing it 709 to 278. "Weak" is too sweet to deserve this kind of mistreatment (and really who knew Roxette had such an army of fans?).
The results of this week will find one slow & sad winner and one happy & fast winner. They'll face off in next week's championship to determine (read with echo) Jezebel's All-Time Song of the Summer.

Voting ends at 12:00 p.m. on Thursday, August 10th.
---
Slow & Sad Ultimate Face-Off: Roxette - "It Must Have Been Love" (1990) vs. Adele - "Rolling in the Deep" (2011)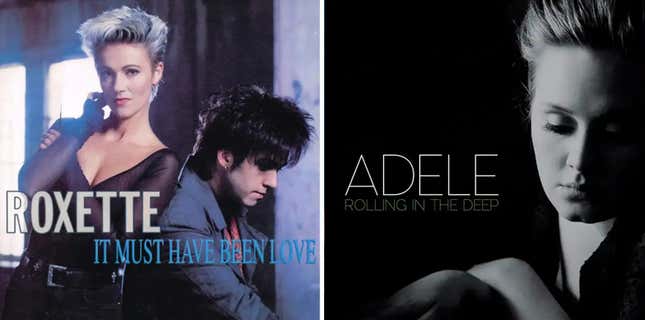 The holiday song that wasn't has advanced with ease! Clearly, there's no respect for "Weak" and its Radio Shack keyboard opening. Roxette's "It Must Have Been Love," in all of its 90s power ballad glory, now faces what's proven to be a contender in Adele's "Rolling in the Deep." Both lament lost love, though one sounds definitively more scornful than the other. Will bitterness beat despondency? I look forward to finding out. - Audra Heinrichs
I still can't believe how durable "Rolling in the Deep" has proved to be. It's got more edge than "It Must Have Been Love," though it is the specific lack of edge that makes "It Must Have Been Love" so effective—unfettered emotion without self-consciousness. It doesn't fear melodrama, it invites it. I love that slow & sad came down to two powerhouse voices that really make these songs soar. Both are worthy, but given Roxette's terrific showing in the last round, I'm giving them the edge. Not bad for a song that was released in this form 33 years ago (and in its first, Christmassy version, 36 years ago)! - Rich Juzwiack
---
Happy & Fast Ultimate Face-Off: DJ Jazzy Jeff and the Fresh Prince - "Summertime" (1991) vs. Carly Rae Jepsen - "Call Me Maybe" (2012)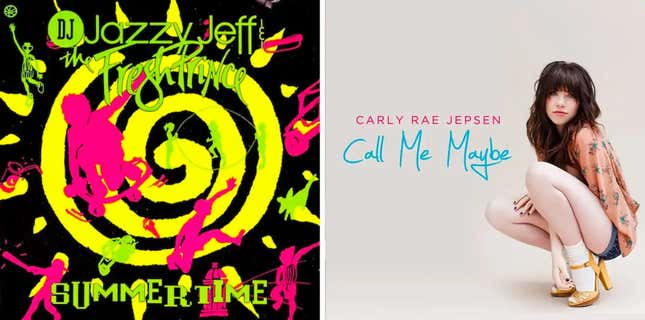 I don't envy the voters on this matchup. However, should one find themselves stuck: DJ Jazzy Jeff and the Fresh Prince's "Summertime" might capture a season, but Carly Rae Jepsen's "Call Me Maybe" will captivate for eternity. Or until the climate crisis eliminates summers altogether. - AH
"Call Me Maybe" is the definition of an instant classic. Once that song caught on, it engulfed the airwaves. That said, "Summertime" is a perennial favorite, the summer equivalent of a Christmas carol whose reemergence is one of the signs of the season. It might be a little on the nose for it to prevail, but that's what would make it perfect: The song that deals most explicitly with summer is a no-brainer for the champion here. "Summertime" gets my vote. - RJ